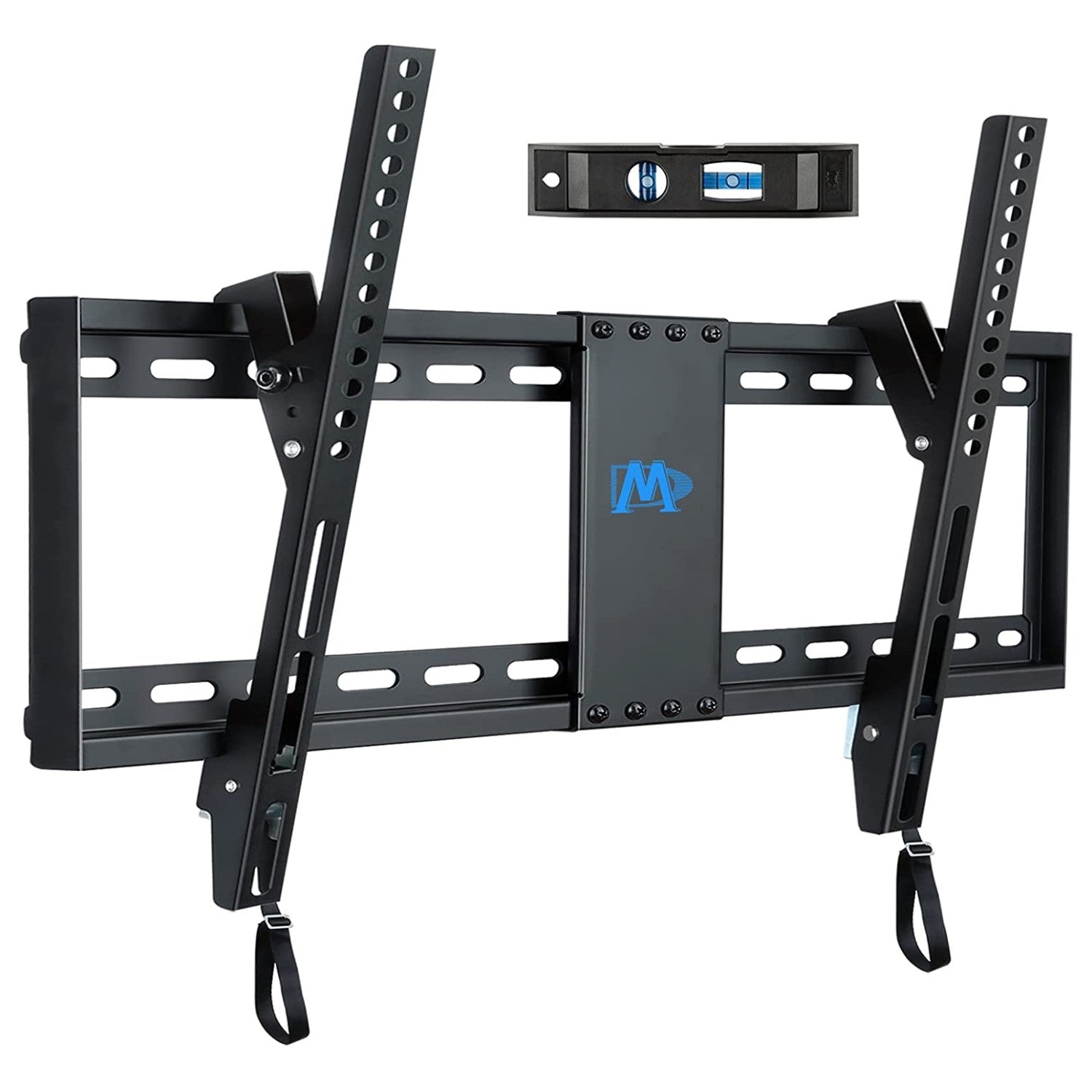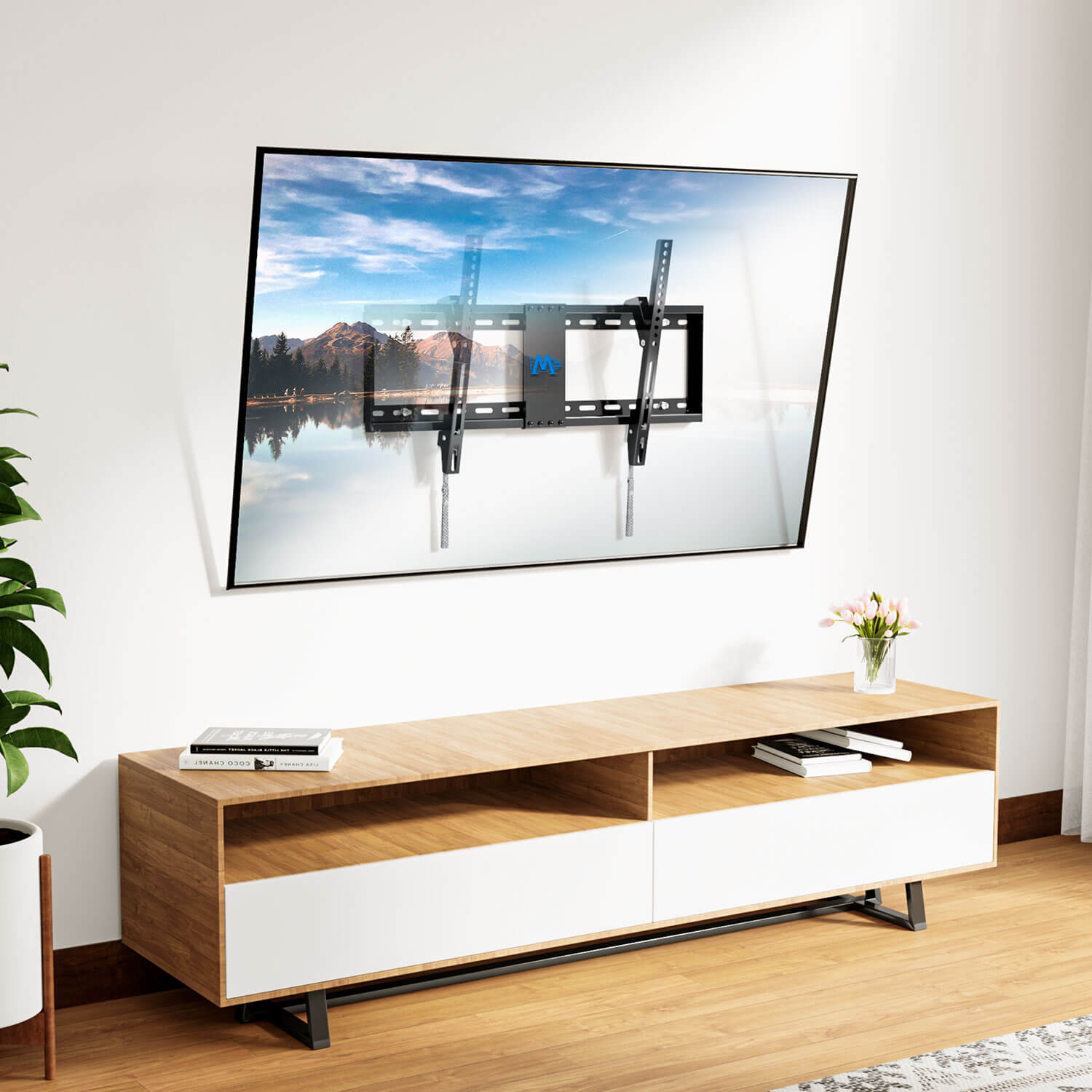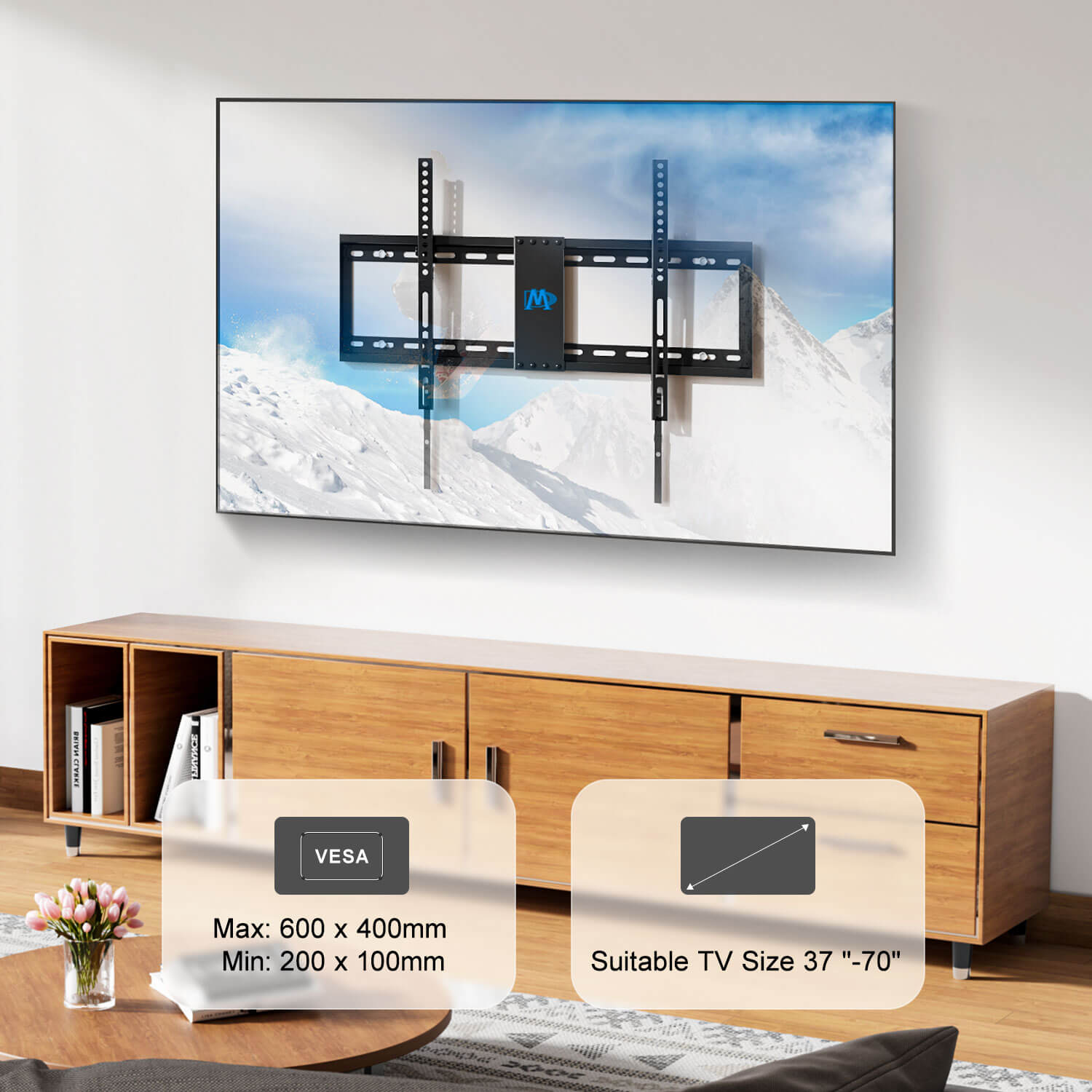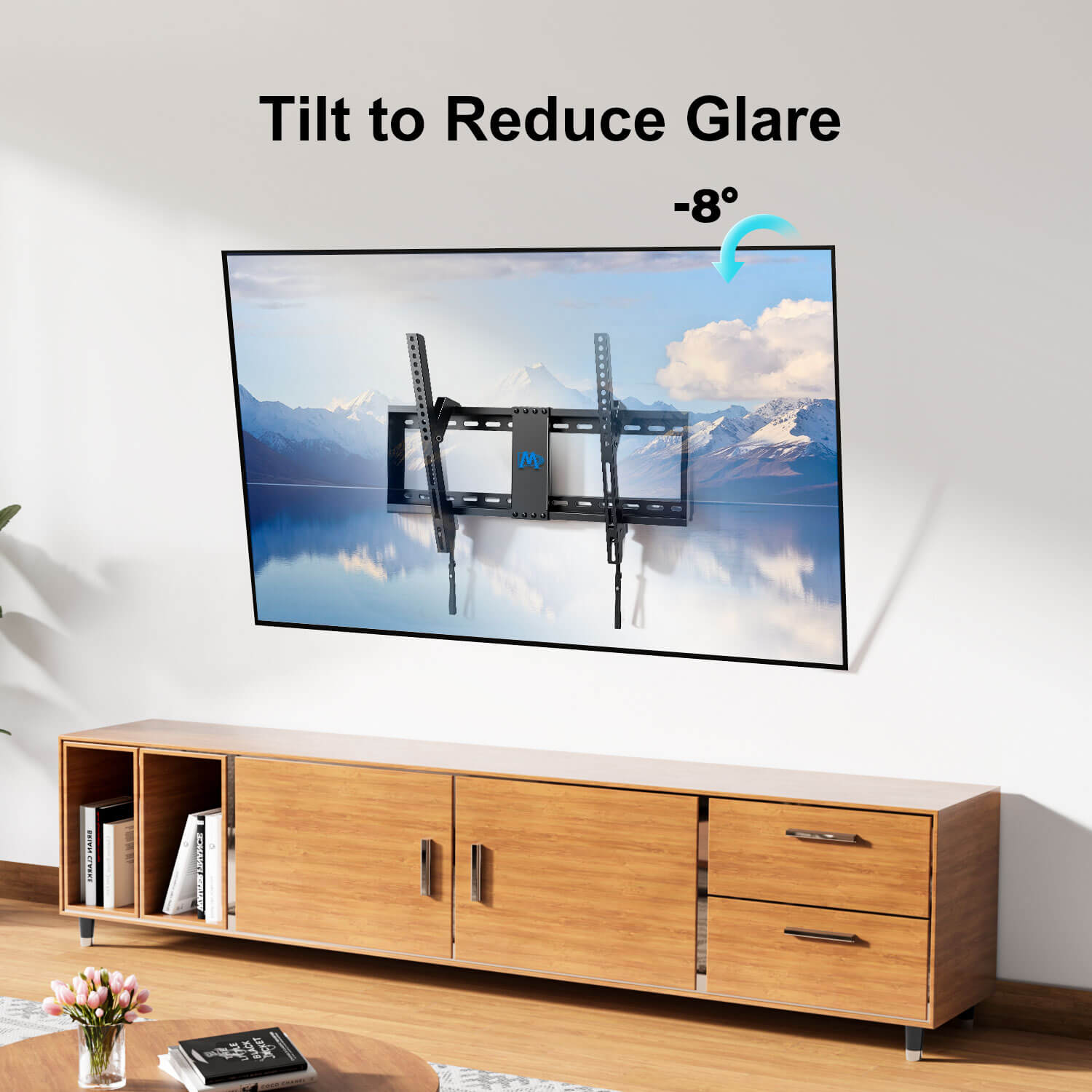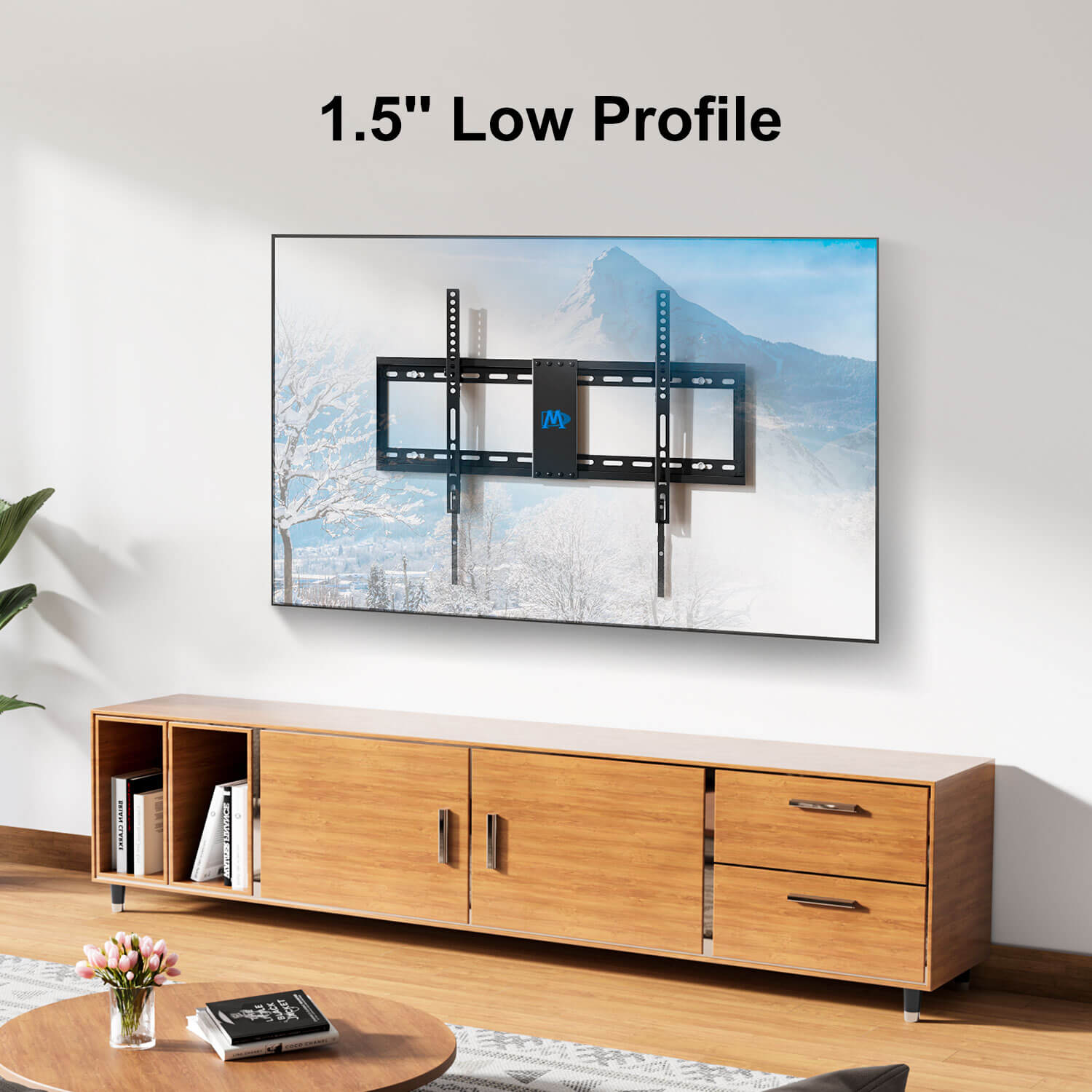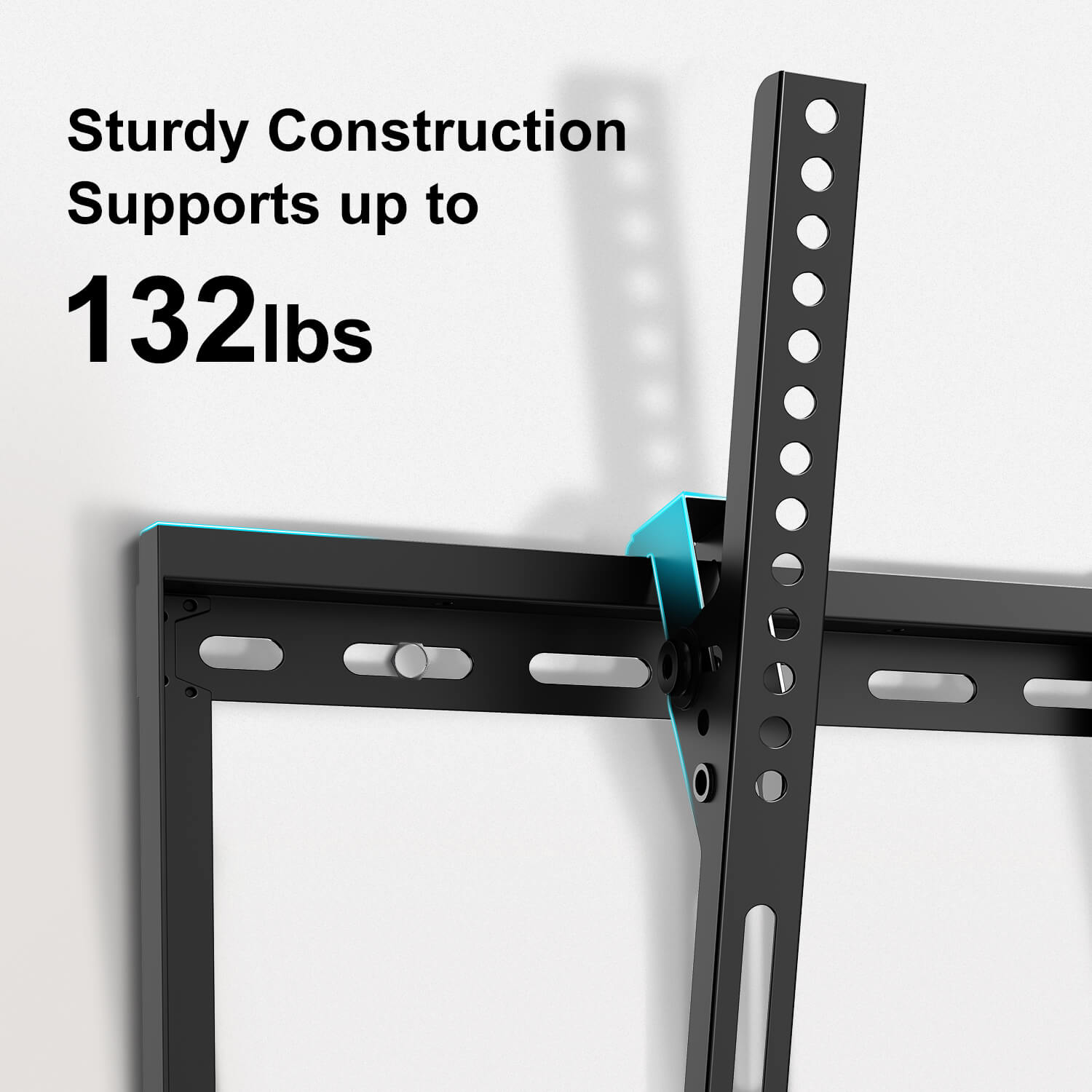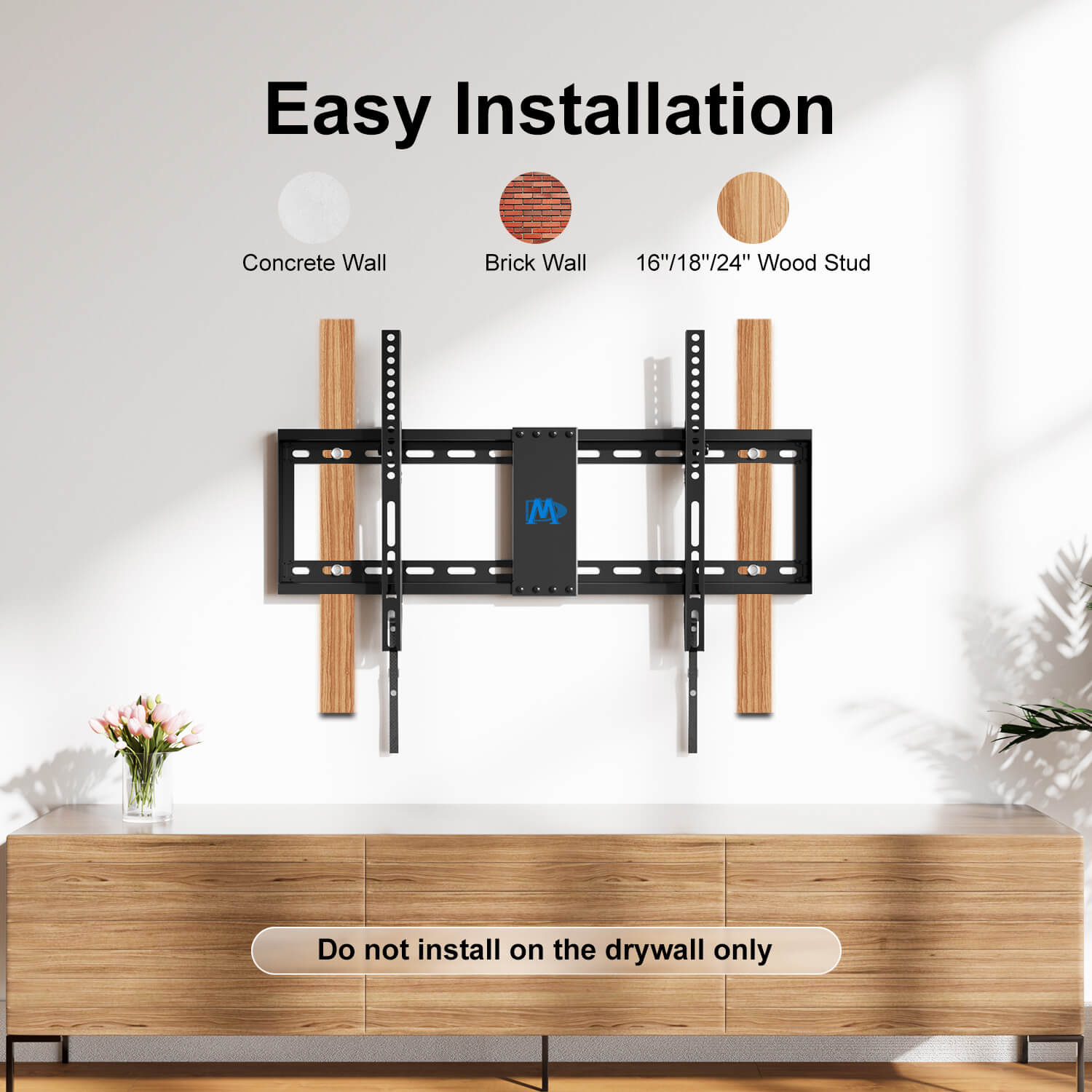 Regular price

Sale price

$32.99

Unit price

per
| | |
| --- | --- |
| Model | MD2268-LK |
| Type | Tilting TV wall mount |
| VESA pattern | 200x100mm​ to 600x400mm |
| Weight capacity | 132 lbs. |
| TV size | 37''-70'' |
| Tilting | 8° |
| Low profile | 1.5'' |
| Installation | Dual wood stud up to 24'' or concrete wall |
| Product Weight | 5.72 lbs. |
| Shipping Dimensions | 17.6 x 9.2 x 3 inches |
| Warranty | 10 years |
Mounting Dream MD2268-LK tilting TV wall mount continues to be our best seller for 4 years. It holds a design patent and the UL safety certification to ensure safety and durability. This TV wall mount can be mounted on 16''/18''/24'' wood stud spacing.
70 inch TV wall mount
The 70 inch TV wall mount works on 37'' to 70''  flat or curved screen TVs and it loads up to 132 lbs. It is compatible with VESA hole patterns of 200x100mm, 200x200mm, 300x200mm, 200x300mm, 300x300mm, 400x200mm, 400x300mm, 400x400mm, 500x300mm, and 600x400mm. It is designed for most TV brands and models, including Samsung, TCL, LG, Sony, Vizio, Toshiba, Hisense, etc.
Tilting TV wall mount reduces glare
A tilting TV wall mount is a great solution if you need to mount a TV in the bedroom. Being able to catch up on the news or watch a movie in bed is one of life's simple pleasures. With a slim and space-saving design, MD2268-LK give you a clean and minimalist design and is perfect for mounting a large TV in the bedroom. Enjoying relaxing time in bed. MD2268-LK has an 8° tilting feature that enables the TV to tilt down, which eliminates glare and reduces neck or eye strain. This TV mount is not only suitable for the bedroom but also for other rooms, indoors or outdoors.
Tilt TV mount with a slim low profile
Another advantage of a tilt TV mount is having a slim low profile. If you are mounting your TV at your eye level or simply don't need the TV to tilt down, this TV wall mount can place your TV close to the wall with only a 1.5'' slim profile. It saves some space as well as creates a sleek look to integrate into the home décor.
Patent design & UL safety certificated wall mount for TV
Wall mount for TV MD2268-LK is a super safe product that guarantees the safety of your TV and family. It owns a UL certification and meets all the safety requirements. It also holds a design patent and an outward appearance patent in the US. Constructed of high-quality stainless steel and a cold-rolled powdered finish, the TV hanger can hold a large TV up to 70 inch and bear a heavyweight of up to 132 lbs. It is perfect for home uses, offices, lobbies, hotels, hospitals, schools, etc.
TV wall mount with a 24'' wall plate
The TV wall mount MD2268-LK has a wide 24'' wall plate that can accommodate a 16''/18''/24'' wood stud mounting. The splice plate in the middle increases firmness and sturdiness. The wall plate also has 2 open spaces, which avoids blocking the outlets when hanging the TV on the wall.
How to install tilting wall mount MD2268-LK
It is easy to install the tilting wall mount MD2268-LK. It can be mounted on wood studs or concrete wall. The package includes the necessary hardware/bolts and straightforward instructions. The installation can be done in 3 simple steps. 1. assemble the wall plate and install the wall plate. 2. attach the TV to the brackets. 3. hang the TV on the wall plate. 
Note: All Mounting Dream TV wall mounts are not for plain drywall mounting. The required anchors for concrete wall installation are not included in the package to avoid any misuse. Anchors will be sent per request if needed.
Package includes
2 wall plates; 2 TV brackets; all screws or bolts in labeled bag; bubble level; Allen key; a user manual in 6 languages.
Feel free to contact us
At Mounting Dream, our customer support is here to help 7 days per week. We are online to reply to your questions through email and we can answer your phone from Monday to Friday. How to choose, how to install, which screws to pick - Feel free to let us know what we can help with.
Customer support email (7 days per week): support@mountingdream.com
Wholesale TV mounts purchase email (7 days per week): sale@mountingdream.com
Phone number (10 am-6 pm, Monday to Friday): (626) 604-9048
Tilting TV Wall Mount for 37-70" TVs MD2268-LK
Great Product
The mounting bracket I bought was easy to install and went together with little to no effort. I would purchase another product.
Great Product
This is a great product, very installer friendly.
A+
Work really well. easy to install
TV Mount
The mount is exactly what I needed. We are a Commercial Solar Installer and use the mount for customer monitoring will order more when needed.