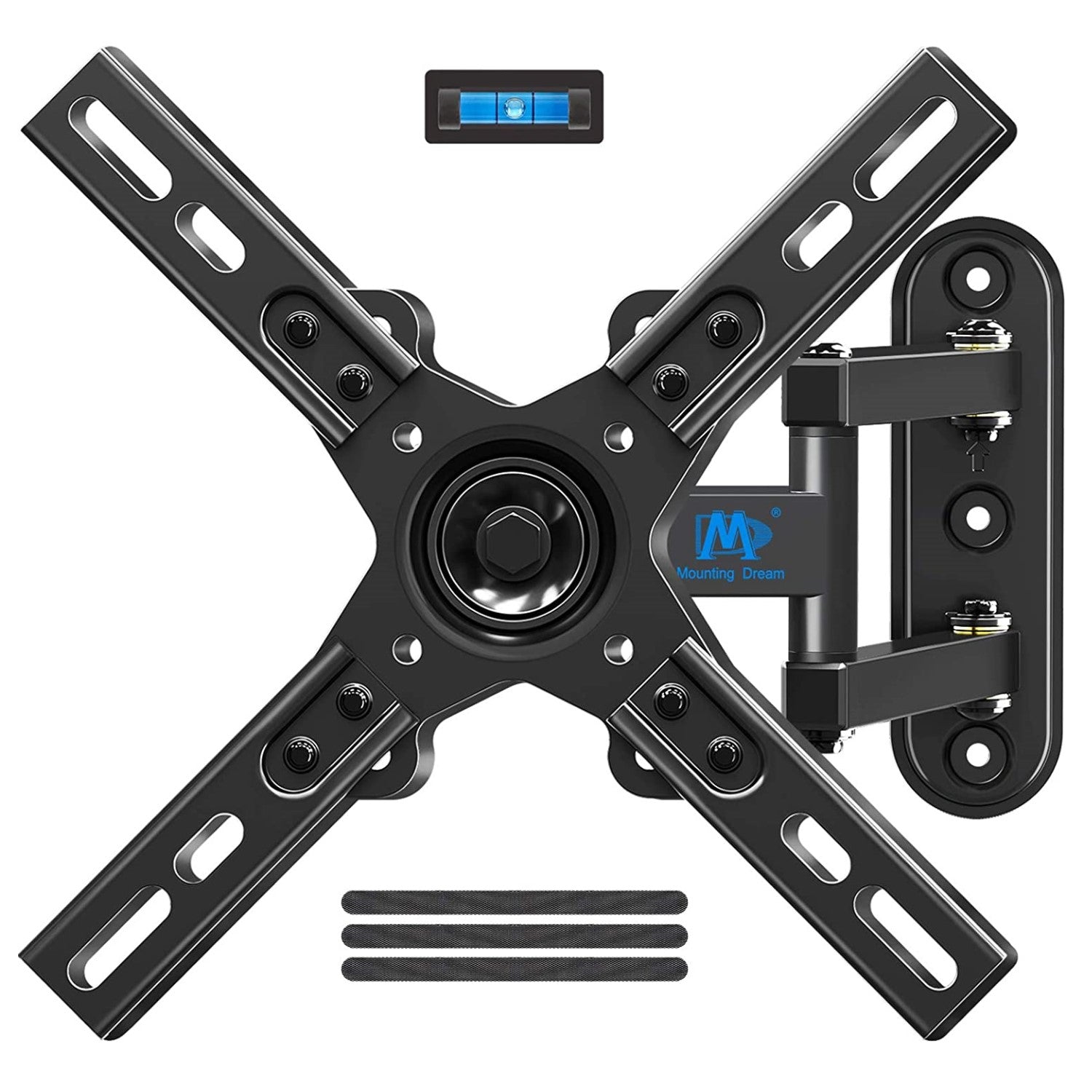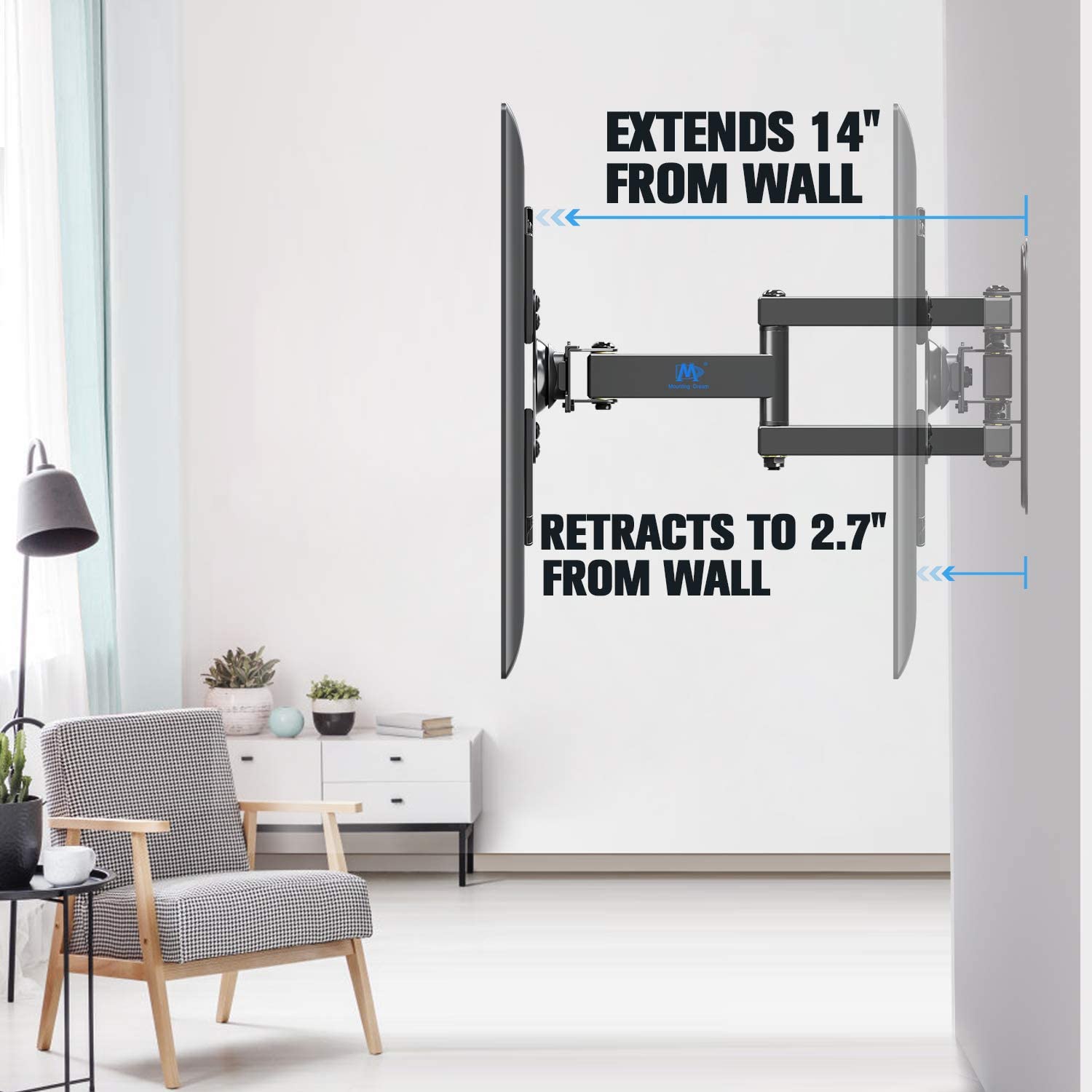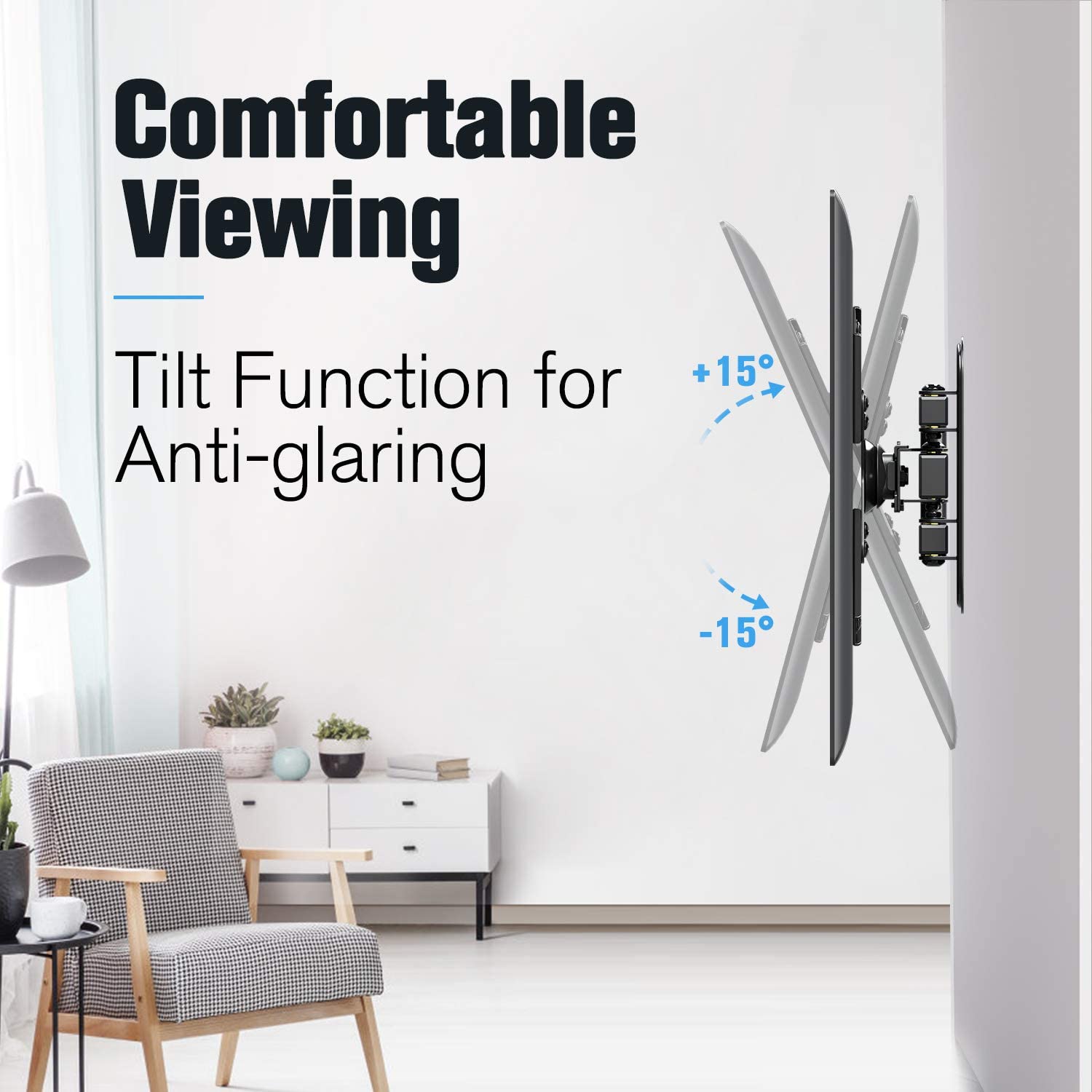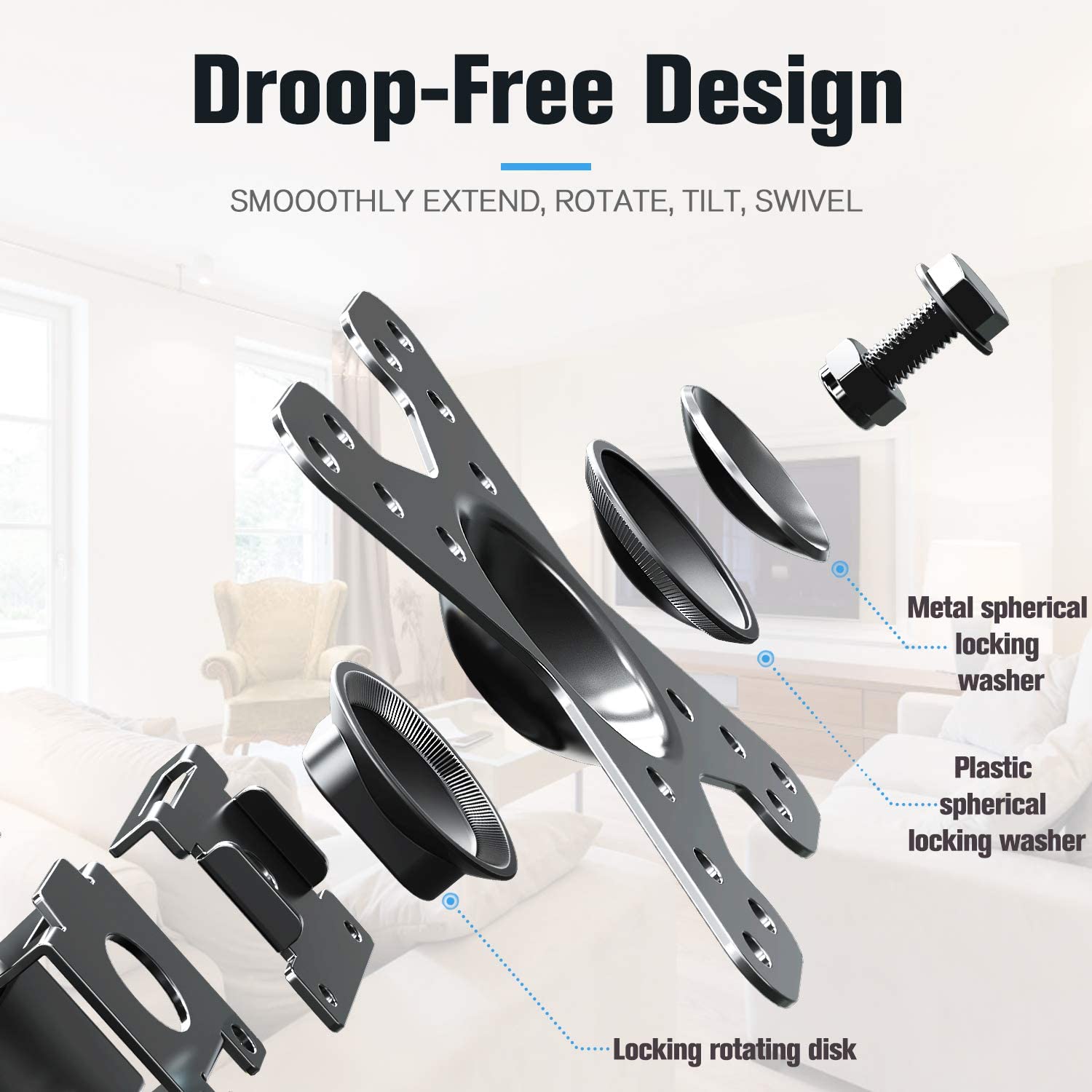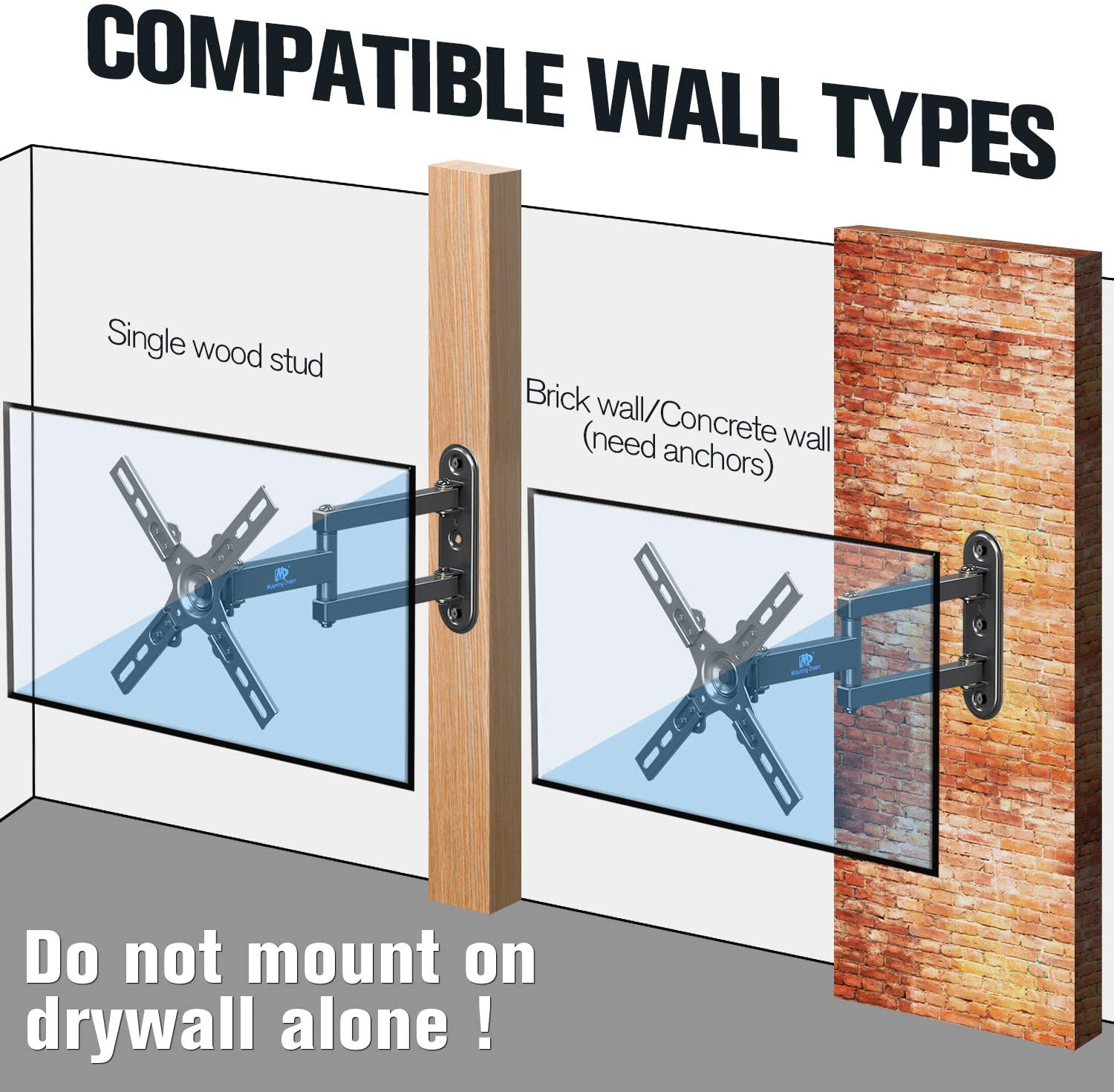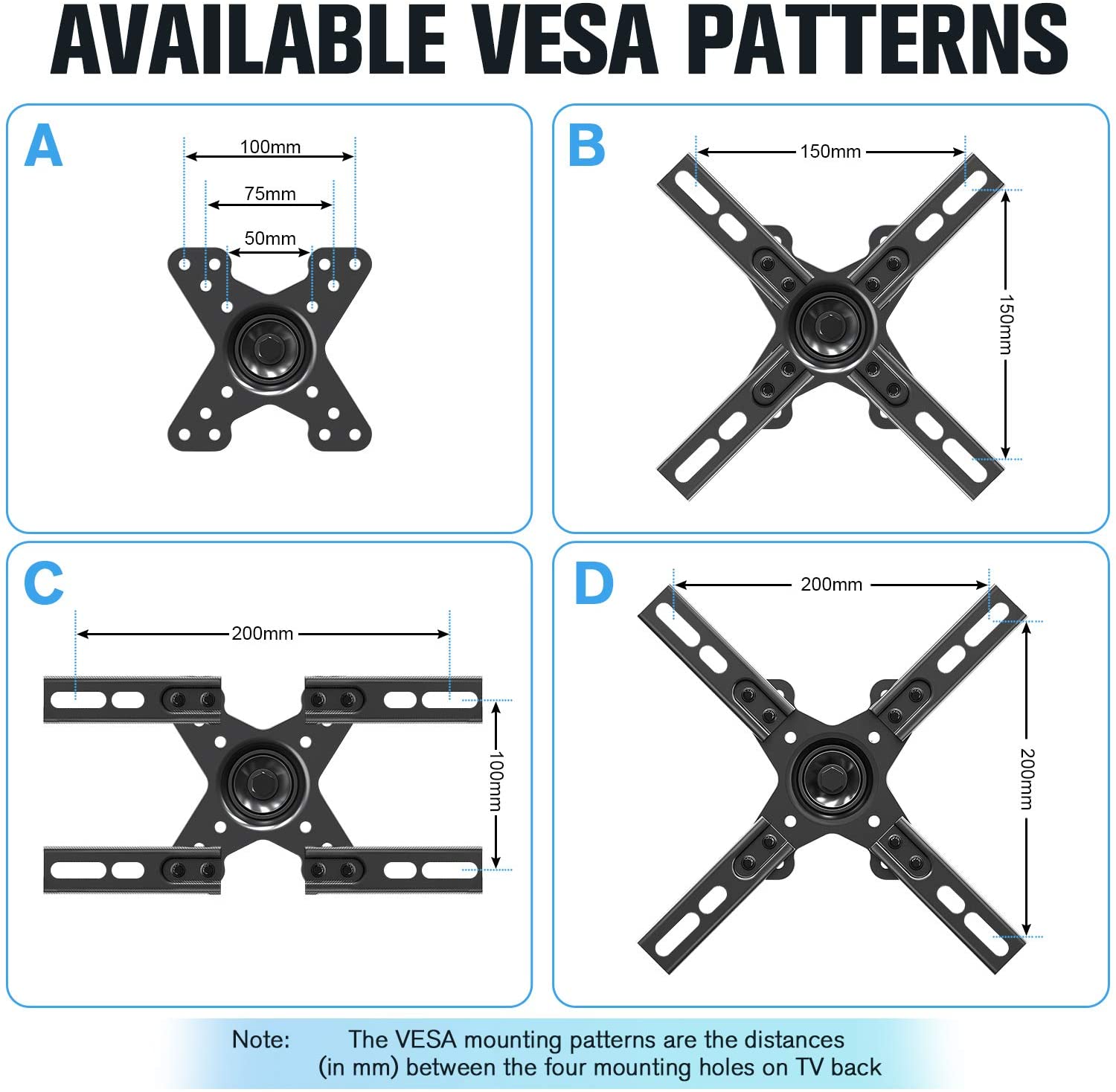 Regular price

Sale price

$26.99

Unit price

per
Model
MD2462
Type
Full motion TV wall mount
TV size
17''-39''
VESA pattern
50x50mm to 200x200mm
Weight capacity
33 lbs.
Swivel
90° left or right
Tilting
15° up and 15° down
Extension
2.7''-14''
Rotation
360°
Material
Cold Rolled Steel
Installation
Single wood stud or concrete wall
Product Weight
2.13 lbs.
Shipping Dimensions
‎7.72 x 13.66 x 7.48 inches
Warranty
10 years
Mounting Dream MD2462 is a full-motion TV mount for 17-39'' TVs or monitors. It features 360° of rotation, which can turn your monitor into portrait or landscape orientation for different viewing angles.
39 inch TV wall mount
This 39 inch TV wall mount works perfectly with TVs up to 39''. It is also a great choice if you are thinking of installing a monitor on the wall. It fits VESA hole pattern 50x50mm, 75x75mm, 100x100mm, 150x150mm, 200x100mm, 200x200mm. MD2462 fits most TV or monitor brands, including Samsung, LG, Acer, Asus, etc.
Full motion TV wall mount
With an articulating arm extended 14'' from the wall, full motion TV wall mount MD2462 can be swiveled up to 90° for different watching angles. Tilting 15° upward and downward to avoid annoying reflection from the window or light. When the TV or the monitor is not in use, retract your TV back to 2.7'' from the wall to create a sleek and clean look.
Rotating monitor wall mount
MD2462 is also a monitor wall mount that can hang your monitor to the wall. With a 360° of rotation, the monitor can be adjusted to landscape or portrait mode to have a more flexible viewing. It can be rotated without using any tools, which is convenient for you.
Sturdy small TV wall mount
The small TV wall mount is made of high quality steel and is constructed by robot welding technology. It is sturdy to load up to 33 lbs. It meets all safety requirements, which are tested to hold 4 times the weight they're claimed to be. MD2462 ensures the safety of your TV or monitor and people.
Package includes
MD2462 TV wall mount; all screws in label bag; bubble level; Allen key; cable ties; a guide manual in 6 languages.
How to install small TV mount MD2462 
The small TV mount MD2462 can be mounted on a single wood stud or concrete/brick wall. The package includes all necessary hardware and bolts for convenient installation. Installation can be completed in 3 steps. 1. assemble and install the wall plate. 2. attach the TV to the brackets. 3. hang the TV on the wall plate. For more clear and detailed instructions, please refer to the user manual of MD2462 which has content and pictures for every mounting step. 
Customer service
At Mounting Dream, our customer support is here to help 7 days per week. Feel free to contact us when you have doubts about how to choose, how to install, how to deal with problems that may occur during or after installation, or anything regarding our products. Reach out to us at the sale email if you want to buy bulk or build a long-term partnership with us.
Customer support email (7 days per week): support@mountingdream.com
Phone number (10 am-6 pm, Monday to Friday): (626) 604-9048
Good quality but poor instructions
Once installed I was impressed with the quality of the unit. However, for a fairly simple assembly that was required, the instructions were rather poor. I have two engineering degrees and yet trying to match the diagrams/sketches to the wording and sequence was very hard to get through. I would strongly recommend the assembly guide be redone.
Cindy
This is the best customer service I have observed in many years. Congratulations on bringing good old fashioned service back to industry.
Reliability
We love Mounting Dream's products. We purchased two tv mounting arms that we're very versatile for multiple sized TV's and easy to install.