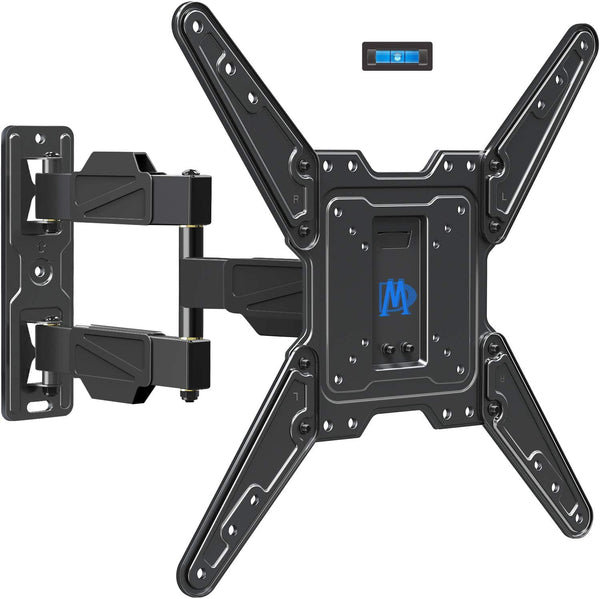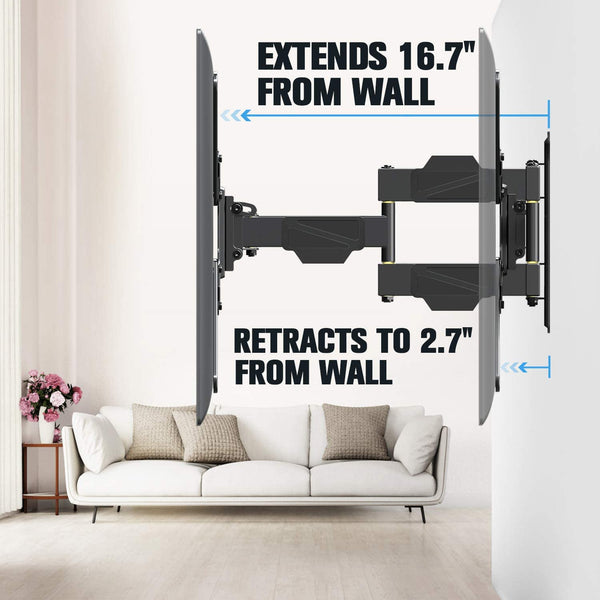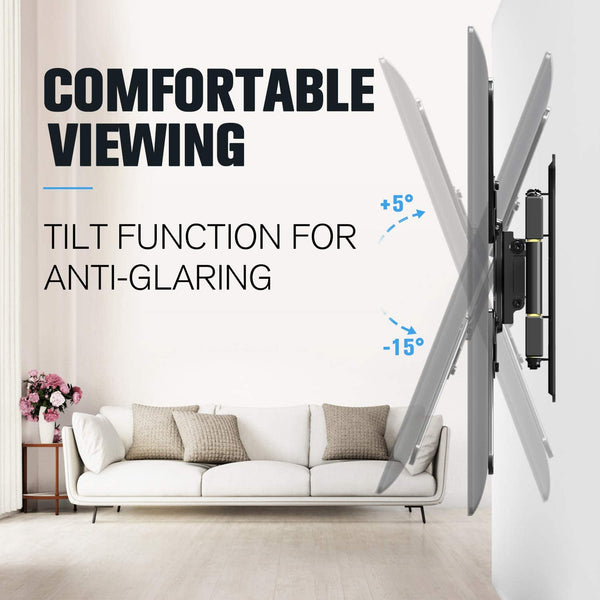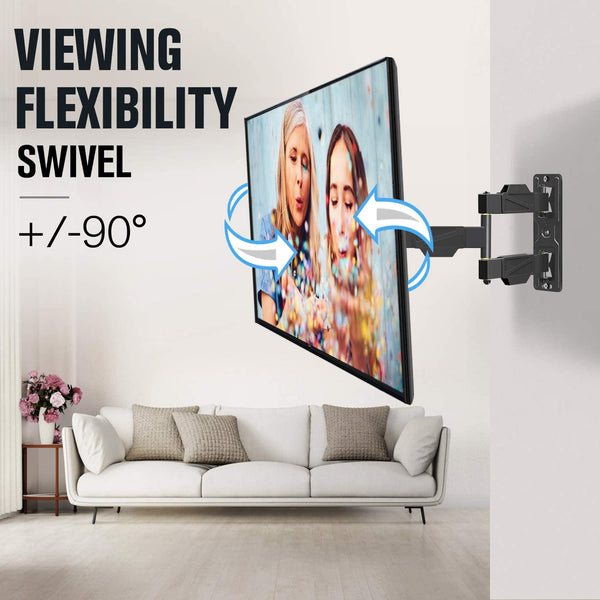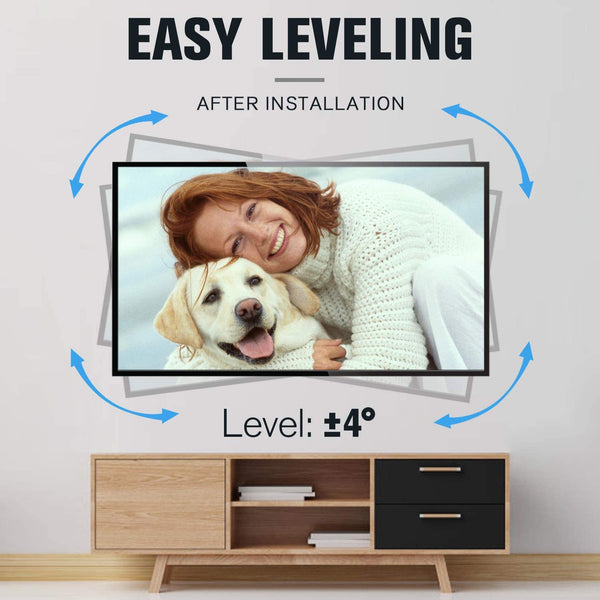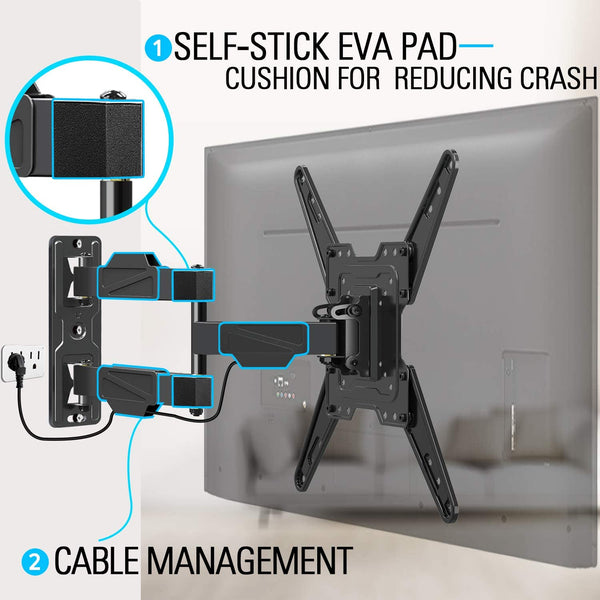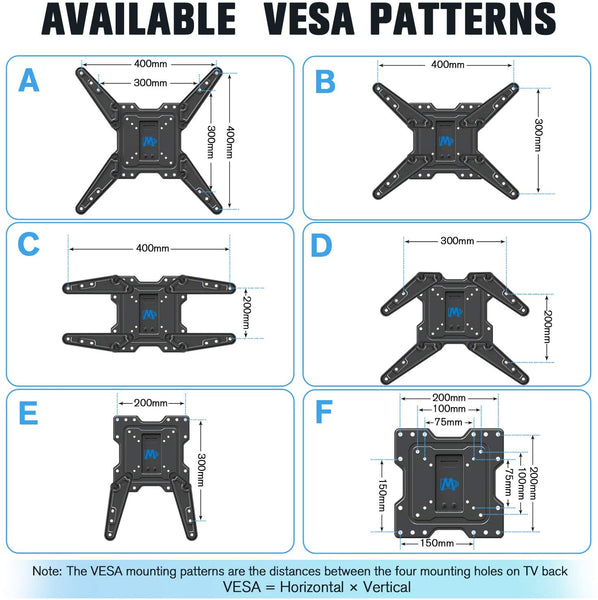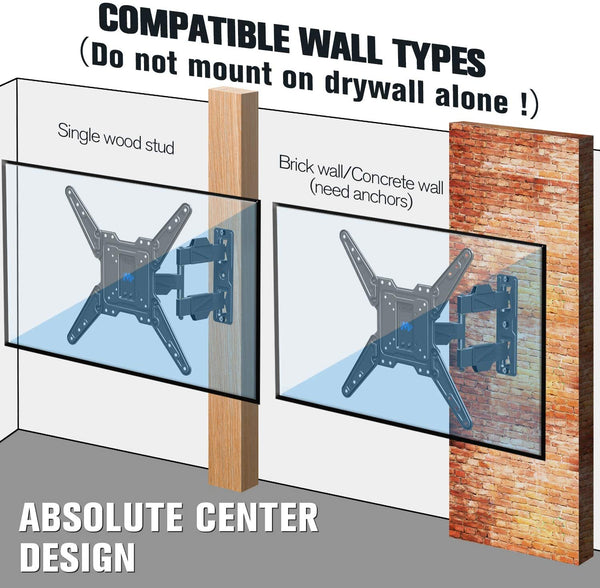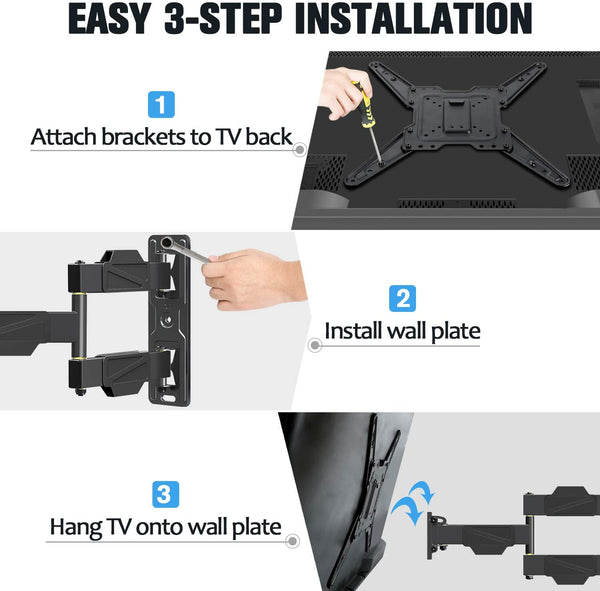 Regular price

Sale price

$31.99

Unit price

per
Model
MD2418-MX
Type
Full motion TV wall mount
TV size
26''-55''
VESA pattern
75x75mm to 400x400mm
Weight capacity
77 lbs.
Swivel
90° left or right
Tilting
5° up and 15° down
Extension
2.7''-16.7''
Leveling
4°
Material
Cold Rolled Steel
Installation
Single wood stud or concrete wall
Product Weight
6.65 lbs.
Shipping Dimensions
11.18 x 10.04 x 2.83 inches
Warranty
10 years

MD2418-MX is a single stud TV wall mount for hanging a 26''-55'' TV on a single wood stud. This full motion TV mount can tilt, swivel, extend or fold the TV freely. It is a great choice for a center wood stud or off-centered wood stud which can be swiveled left or right to center the TV.
55 inch TV wall mount
Mounting Dream 55 inch TV wall mount MD2418-MX fits most 26-55'' medium-sized TVs. It is compatible with VESA hole patterns from 75x75 to 400x400mm (75x75mm, 100x100mm, 150x150mm, 200x200mm, 200x300mm, 300x200mm, 300x300mm, 400x200mm, 400x300mm, 400x400mm). This TV wall mount works with most TV brands, including Samsung, TCL, LG, Vizio, Hisense, etc.
Full motion TV mount
This full motion TV mount allows you to have the best view to watch TV from different angles in your house. With an extension of up to 16.7'', the TV can be swiveled up to 90° left or right. 15° downward helps you reduce glare from reflective light and 5° upward enables you to manage cables easily. When the TV is not in use, the TV can be folded 2.7'' back to the wall to save space.
Single stud TV mount for corner mounting
If you are mounting a TV in the corner, a single stud TV wall mount is a great solution. It allows you to hang the TV in one stud near the corner while having the flexibility to adjust viewing angles. 
High quality TV wall mount
This TV wall mount is made of high quality steel and has a sleek finish. It can load a TV up to 77 lbs. The self-stick EVA pad reduces any crash for the articulating arm on the TV. It also comes with 3 cable clips which help manage cables behind the TV and creates a clean look.
Package includes
1 pcs of TV mount; 2 extended arms; all screws in label bag; bubble level; allen key; cable ties; a guide manual in 6 languages.
How to install MD2418-MX
Single stud TV mount MD2418-MX is easy to install on a single wood stud or concrete wall. The package includes the necessary bolts and hardware for easy installation. Installation can be done in 3 steps. 1. install the wall plate. 2. attach the TV to the brackets. 3. hang the TV on the wall plate.
Feel free to contact us
At Mounting Dream, our customer support is here to help reply to your email 7 days per week and answer your phone from Monday to Friday. How to choose, how to install, which screws to pick, any problems regarding our products. Feel free to let us know.
Customer support email (7 days per week): support@mountingdream.com
Bulk purchase quote email (7 days per week): sale@mountingdream.com
Phone number (10 am-6 pm, Monday to Friday): (626) 604-9048
Easy To Mount
So easy to mount, and like the fact that rotating arm is centered. This is the third mount that I have ordered from Mounting Dream, and will continue to use them in the future.