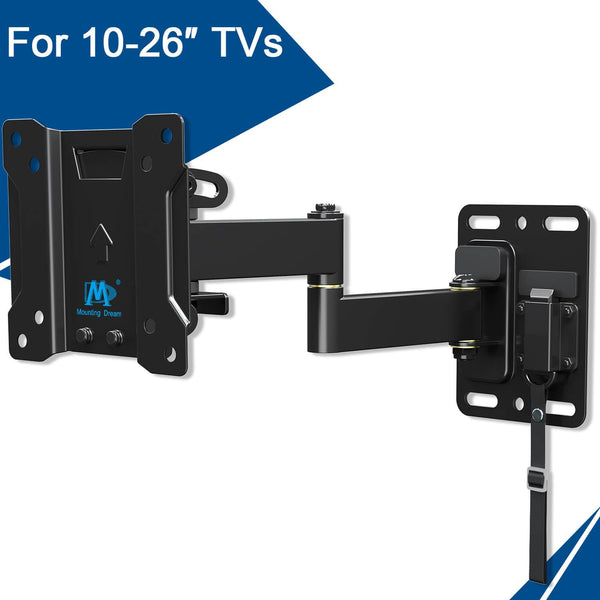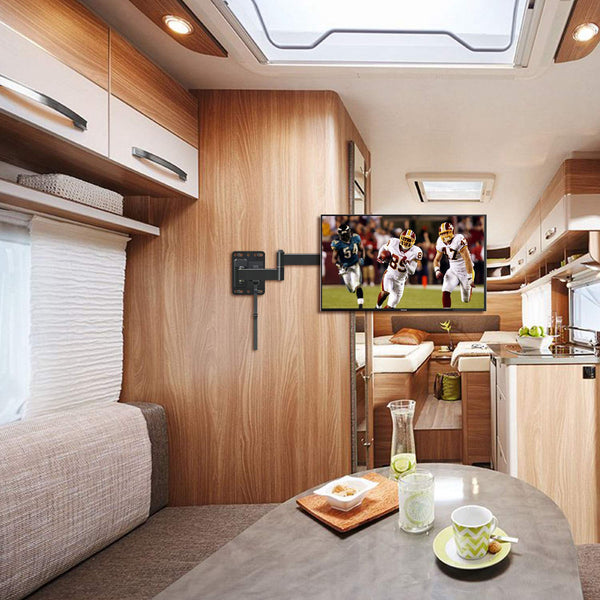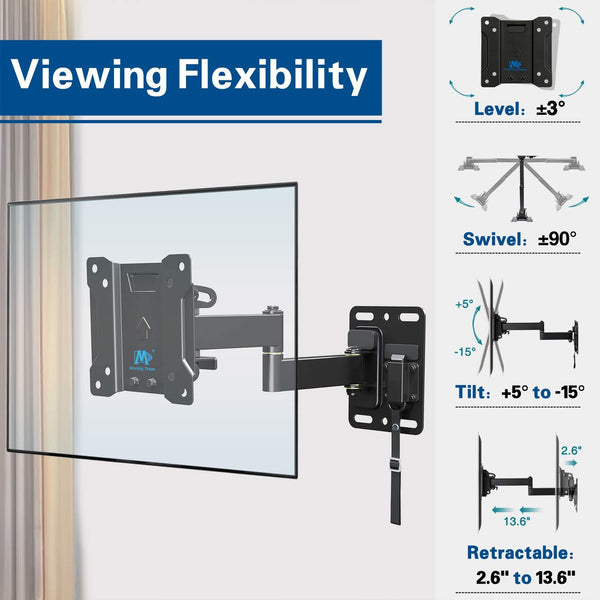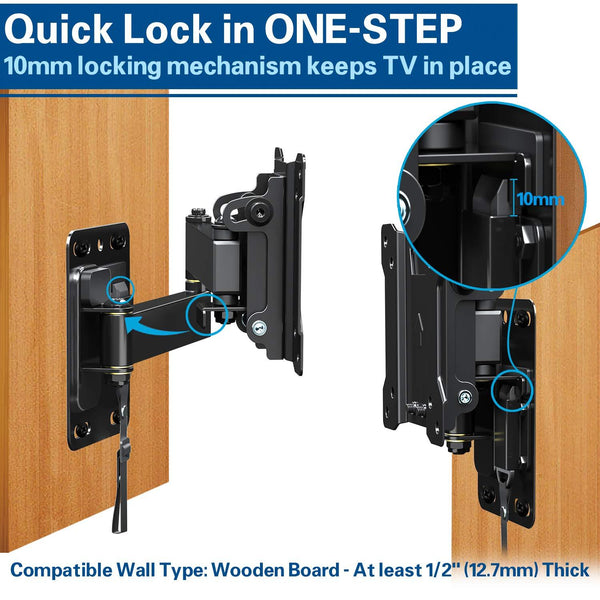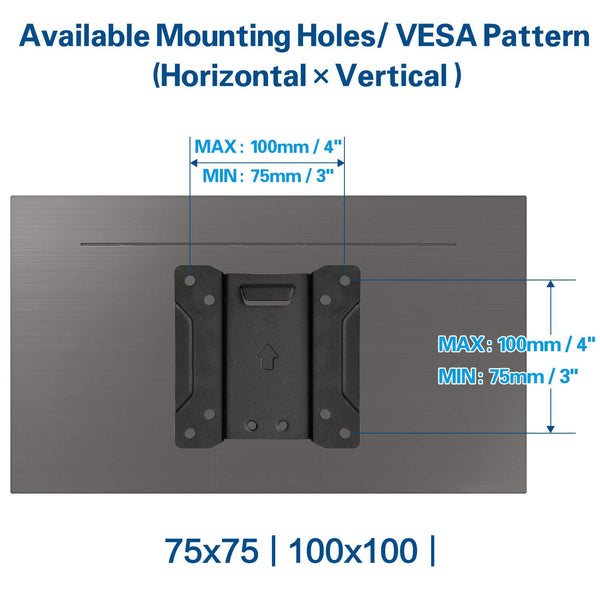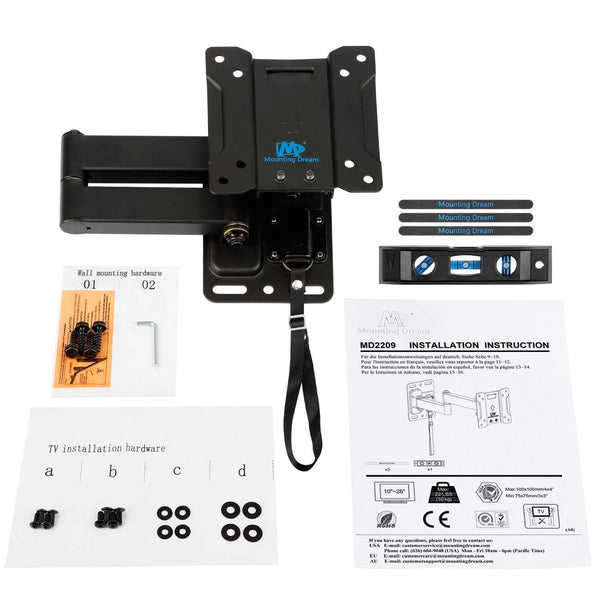 Regular price

$30.99

Sale price

$25.00

Unit price

per
 Renewed products are returned items from our customers which are not compatible with their device. These products are only opened and then returned to our warehouse with all kits included in good condition. All items are examined carefully before shipping out! 

Mounting Dream camper TV mount MD2209 is a lockable swivel TV wall mount perfect for 10-26 inch TVs. This swivel RV TV bracket loads up to 22 lbs. and universal for TVs VESA pattern range from 75x75mm (3x3") to 100x100mm(16x16"). If you are not sure this trailer tv mount blocks the VESA holes of your TV or not, please contact support@moutningdream.com with the full model number of your TV, we will check if for you.
Secure your TV safely in the ups and downs:
With a unique locking mechanism, MD2209 full motion TV wall mount for 10-26 inch TVs has a 10mm tongue which secures swivel arms and TV plate to the wall. The only thing you need to do is pull down the strip on the wall plate after you retract the mount and TV close to the wall and then lock the arm.
Adjust your TV to be viewable out the trailer
If there is a window near the TV, or you mount your RV/trailer TV closed to the window, you can pull the TV out and then swivel and adjust it to be viewable outside the RV. This lockable RV TV bracket allows you to tilt the TV from +5° to -15° with an Allen Key that comes with the pack. You can swivel up to -/+90°on each side. If the TV is installed a little unlevel in the installation and you are unable to take it down and redrill holes on the wall, you can rotate the TV -/+3° to make it level without drilling other holes.
Mounting Dream MD2209 RV TV mount wall requirement:
This RV TV mount is required to be mounted on solid wooden board thicker than 1/2 inch.
Packing List and MD2209 Dimension
To ensure you can complete TV mount installation by yourself, it comes with mounting screws, washers, Allen Key, Lag Bolt.
If you want to check if this works with the configuration of your trailer, please see the dimensions:
How to install trailer TV mount MD2209
A Mounting Dream full motion TV mount only takes 30 minutes to install your 10-26" TVs. The only three things you need to do are drill holes, attach the mount to wall and then hook your TV to the mount!
Wholesale TV wall mount is available
if you are looking for an RV TV mount for RV/trailers, please feel free to email to sale@mountingdream.com with the mount models and shipping details with zip code, we will offer bulk discounted price and lead time!   
Buy with confidence:
At Mounting Dream, our customer supports are here to offer help 7 days per week. We respond to your email in 12 hours and we answer your phone call from Monday to Friday. Feel free to contact us if you want to know if our TV wall compatible with your TVs.
Email: support@mountingdream.com (7 days per week)
Phone call: (626) 604-9048 (10 am-6 pm, Monday to Friday)
[custom tab]
| | |
| --- | --- |
| Model | MD2209 |
| Type | Full Motion |
| Placement | Wooden Board Thicker than 1/2 inch or Concrete Wall |
| VESA Hole Pattern | 75X75mm, 100X100mm |
| Maximum Loadability | 22 lbs. |
| Minimum TV Size | 10 inches |
| Maximum TV Size | 26 inches |
| Minimum Extension | 2.6 inches |
| Maximum Extension | 13.6 inches |
| Tilt Range | +5°/-15° |
| Swivel Range | +90°/-90° |
| Leveling Range | +/-3° |
| Material | Cold Rolled Steel |
| Color | Black |
| Product Weight | 3.52 pounds |
| Shipping Dimensions | 4.02 x 2.76 x 1.18 inches |
| Warranty | 10 Years |
[/custom tab]
The mount worked well and easy to install with good directions
Lockable swivel mount
Awesome product, would add some loops or tabs too secure wires, cables for a cleaner look.