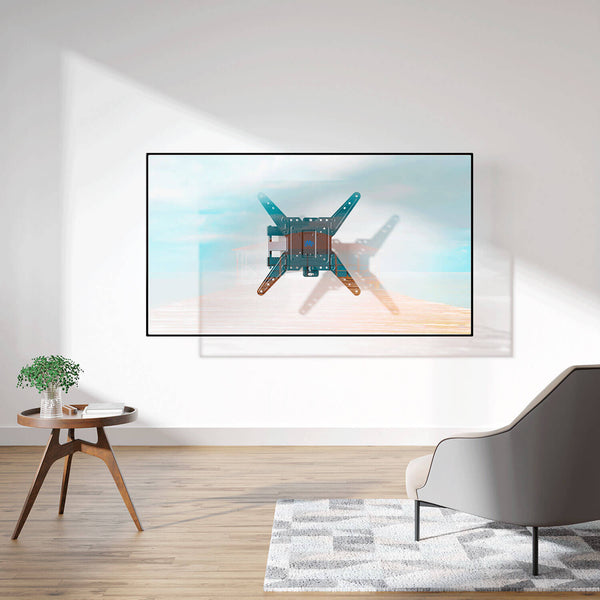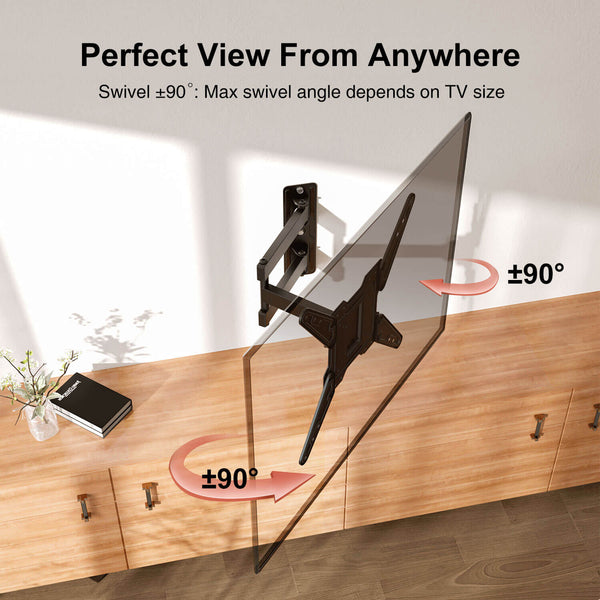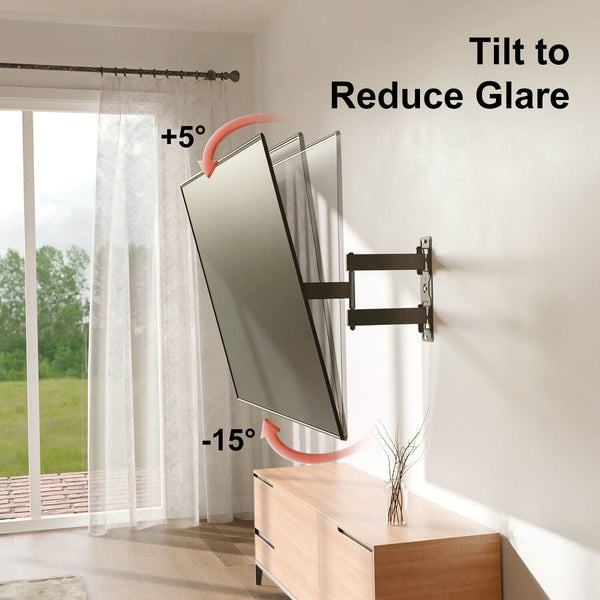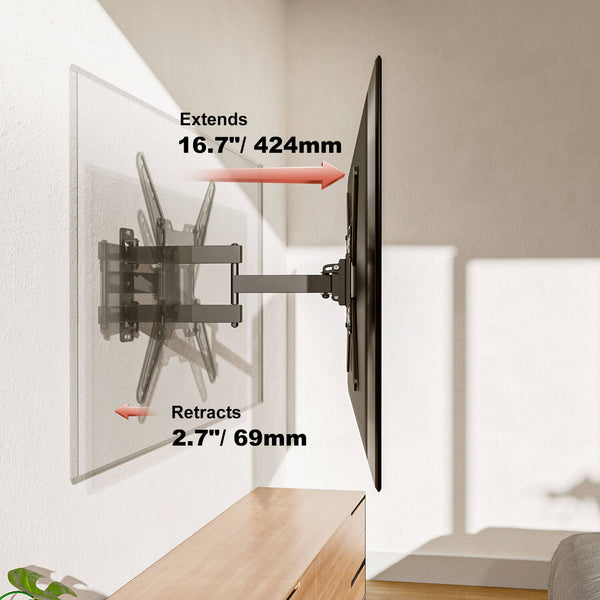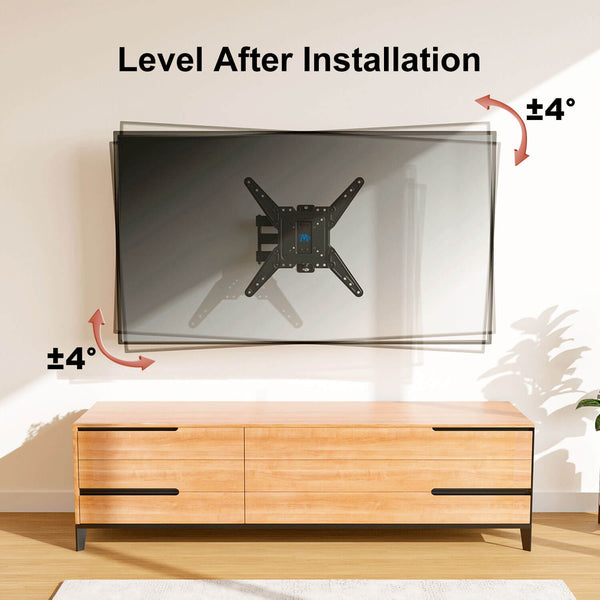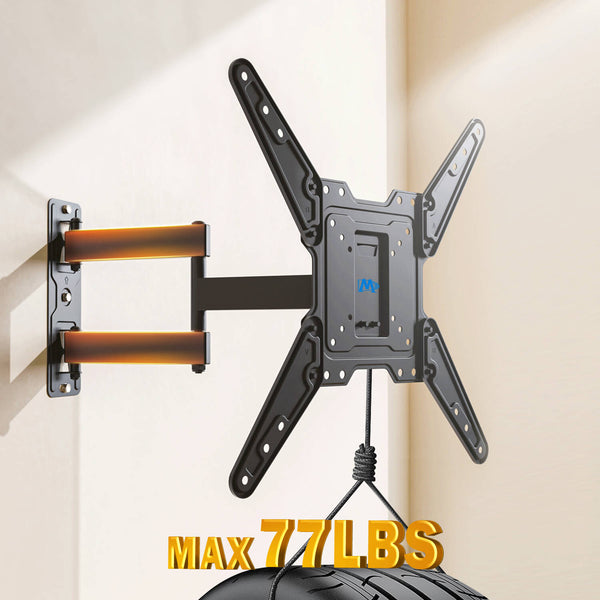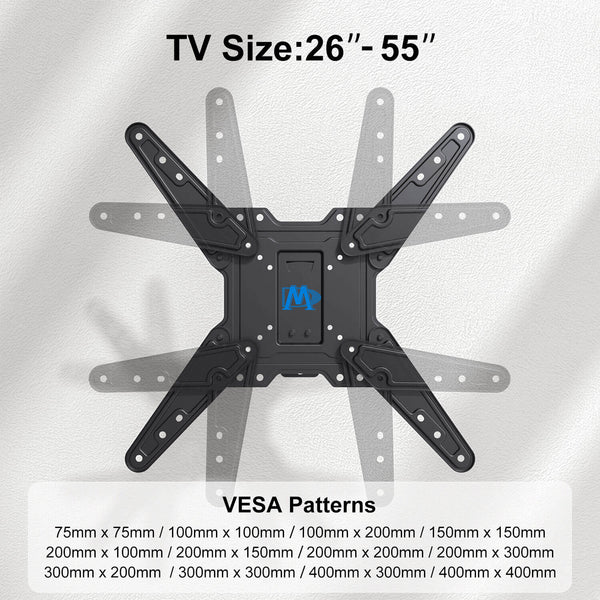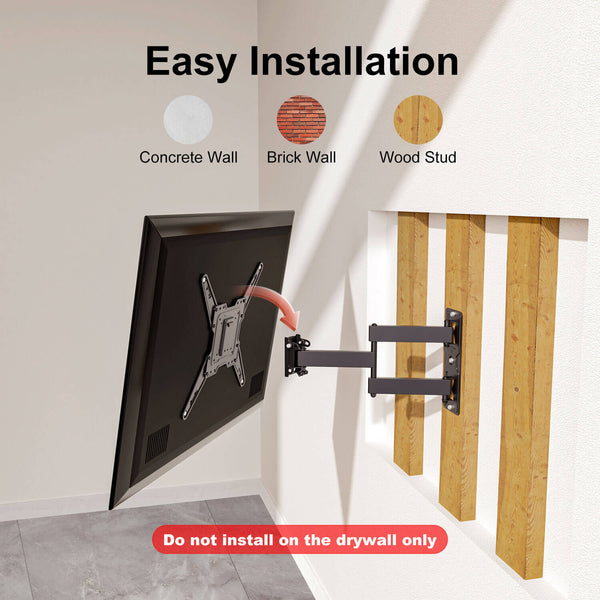 Regular price

Sale price

$32.99

Unit price

per
| | |
| --- | --- |
| Model | MD2413-MX |
| Type | Full motion TV wall mount |
| TV size | 26''-55'' |
| VESA pattern | 75x75mm to 400x400mm |
| Weight capacity | 77 lbs. |
| Swivel | 90° left or right |
| Tilting | 5° up and 15° down |
| Extension | 2.7''-16.7'' |
| Leveling | 4° |
| Material | Cold Rolled Steel |
| Installation | Single wood stud or concrete wall |
| Product Weight | 7.59 lbs. |
| Shipping Dimensions | 17.13 x 17.13 x 2.9 inches |
| Warranty | 10 years |
Full motion TV wall mount MD2413-MX is one of the best budget-friendly mounts for a 26''-55'' TV. It is designed with a single arm and single stud, which makes it very easy to assemble and install.
55 inch TV wall mount
The 55 inch TV wall mount MD2413-MX can be used to accommodate flat and curved TVs with a screen size between 26 inches and 55 inches. It is compatible with VESA holes from 75x75mm to 400x400mm. It fits most TV brands on the market, including Samsung, TCL, Vizio, Sony, LG, etc.
Note: If the VESA holes are smaller than 200×200 mm, 4 extension brackets are not needed to assemble. If you have a small 17''-39'' TV, please check Mounting Dream MD2413-S.

Full motion TV wall mount
With its articulating arm, this full motion TV wall mount can extend 16.7'' from the wall, which allows you to swivel the TV up to 90° to the left or the right. It can tilt the TV 5° up and 15° down to reduce glare, and you can watch the TV more comfortably. Besides, it features a 4° leveling. You can adjust the TV up and down to level the TV after installation.
Corner TV mount saves space
The swivel TV mount MD2413-MX is not only a plus when you need to change the way the TV is facing, but it is a good solution for awkward corners or small rooms. Placing your TV using MD2413-MX is an effective way to upgrade your TV experience while saving a lot of space. With a long articulating arm, your TV can be adjusted to a great extent. There are no compromises when it comes to flexible adjustments even mounting the TV in the corner.
UL-listed TV wall mount
Mounting Dream MD2413-MX is a UL-listed TV wall mount. UL Listing means that UL has tested it and determined that it meets specific, defined requirements and the standard of safety. It is made of heavy-duty aluminum and steel for reliable strength to load a TV up to 77 lbs. By hanging a TV up, the TV is secured on the wall and home safety will greatly improve. You can use it at home, in the office, or in other places in confidence. Mounting Dream TV wall mount MD2413-MX is able to guard your TV and the people who watch the TV.
How to install the wall mount for TV MD2413-MX
The wall mount for TV md2413-MX can be mounted on the single wood stud and concrete wall. The single arm and the single stud design make it easy to install. All necessary bolts and hardware and detailed instructions are included in the package. It only takes 3 simple steps to complete the installation. 1. Attach the TV brackets to the TV. 2. Mount the wall plate to the wall. 4. Hang the TV on the wall plate.
Packing List:
To ensure you can complete the TV mount installation by yourself, it comes with mounting screws, washers, spacers, bubble level, M7x55mm Lag Bolt, Mounting Template, and Socket Wrench. But concrete wall anchors are not included in the pack, we will send them per your request.  
Mounting Dream full motion TV mount MD2413-MX product dimensions:
Please see the dimension of Mounting Dream TV mount MD2413-MX to check if this mount works with the recessed wall or TV console configuration.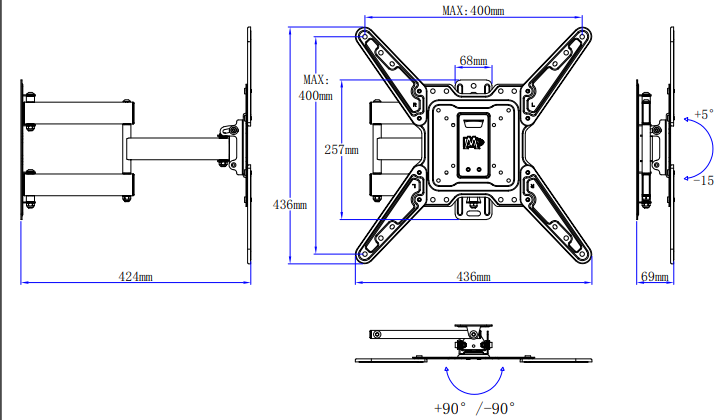 Feel free to contact us
Mounting Dream has been in the TV brackets manufacturing business since 1993. Our customer supports are here to offer help 7 days per week. We respond to your email in 12 hours and we answer your phone call from Monday to Friday. Feel free to contact us if you want to know if our TV wall is compatible with your TVs, how to install it over the fireplace, which screws to pick, or request concrete wall anchors:
Email: support@mountingdream.com (7 days per week)
Phone call: (626) 604-9048 (10 am-6 pm, Monday to Friday)
The Right One
I was having some difficulties finding the Right Mounting Bracket for my Flat Screen LCD TV due to it's unique VESA MOUNTING HOLE PATTERN on the back of my TV after doing some research finding a Company that had one I contacted Mounting Dreams and told the Tech what I needed as far as the weight of my TV, and the area on my wall that had what was needed which was a single wall stud in that area my Home was built in 1953 at that time homes weren't built like they are today in terms of Wall Studs Placement. Anyway I told the Tech what I needed was a Mounting Bracket for a Single Stud that would put the TV as close as possible to being Centered on my Bedroom wall. I used a Stud Finder that located the Stud it was a little difficult to find due to it's placement I had looked at other Mounting Brackets, but they were to large for my Application the Tech got back with me a little later and gave me his Recommendation I reviewed it and told him that I really didn't need a Expensive Bracket since my TV's weight didn't require such a Bracket he got back with me again, and told me that the Bracket that would work to support my TV as far as being Durable, and able to support the TV's weight and a Reasonable price I ordered it and the Bracket came several days ahead of it delivery time from them with all of the necessary Mounting parts they were well laid out with Instructions, and a Template with marking Patterns for where the Lag Bolts should be placed to give the Bracket the Strength that it needed to support the TV. Anyway the job wasn't difficult to do, and i must say that Mounting Dreams made my Dreams come true as far as Mounting a 50" Plasma yeah! that's right a Plasma TV, and the only reason that I haven't switched it out is because the TV is like that Bunny Rabbit that just keeps going, going, and going it's one of JVC's earlier models it's not a 4k but my Yamaha AV RECEIVER processes Digital (Video) signals in 2k, and 4k and has Upgradable Tech built in. Anyway to close out this Review Thanks Mounting Dreams for making my Dreams come true in Terms of the Techs there at Mounting Dreams caring enough to make it all happen! T-Hawk Out!
Well Built
This TV mount was received earlier than estimated. It is very sturdy as it is well designed and built. As a career metal worker, I am impressed with the overall quality.It fit well and functions very good.
Nice mount
Installed quick and easy. All parts fit well. Holding 55" Samsung just fine.
Wall Mount Install
Easiest wall mount install ever. All parts provided and correct with no modification necessary. Easy to understand instruction.minimum
Strong and easy to install
I installed two of these mounts single-handedly without any help since they are easy to install.
The mount supports 55-inch tv and is articulated so one can adjust it many ways