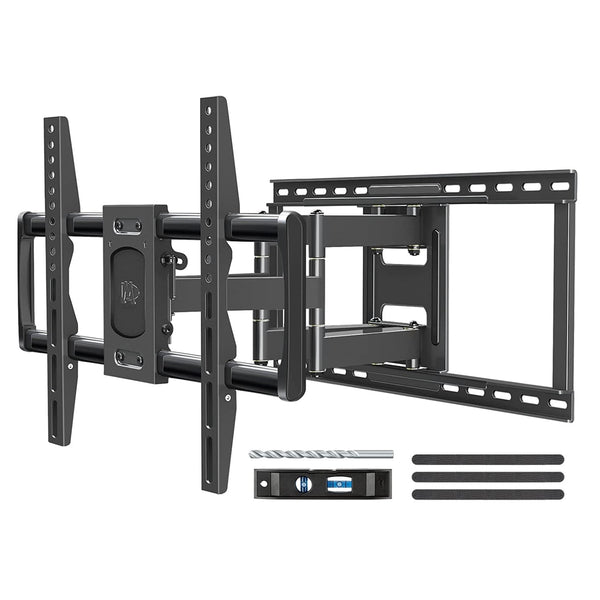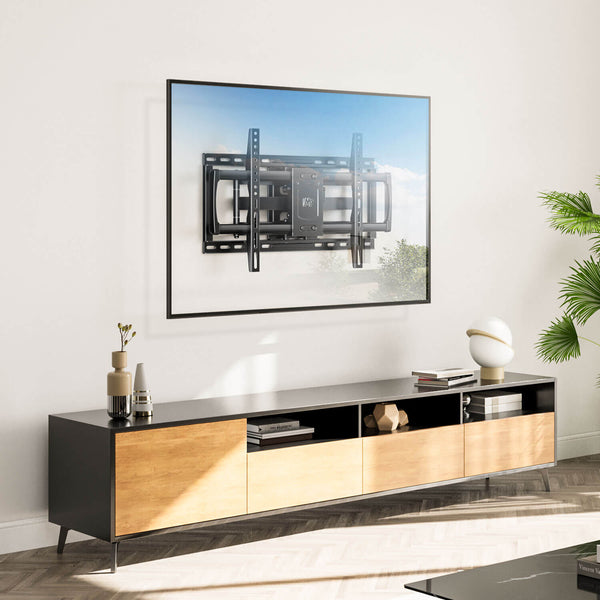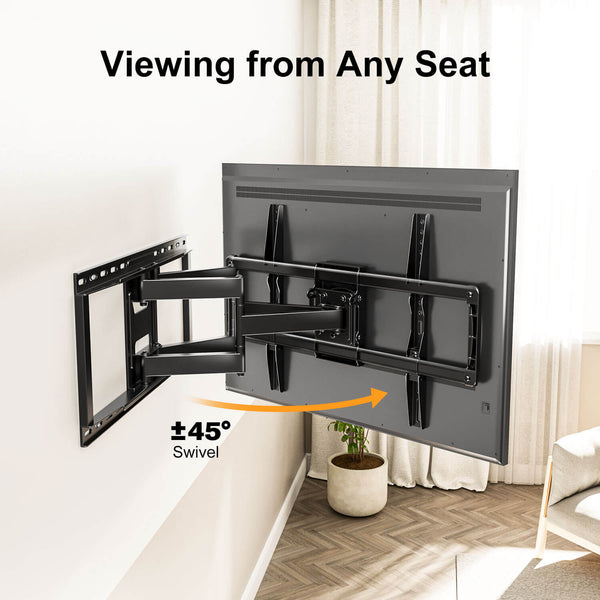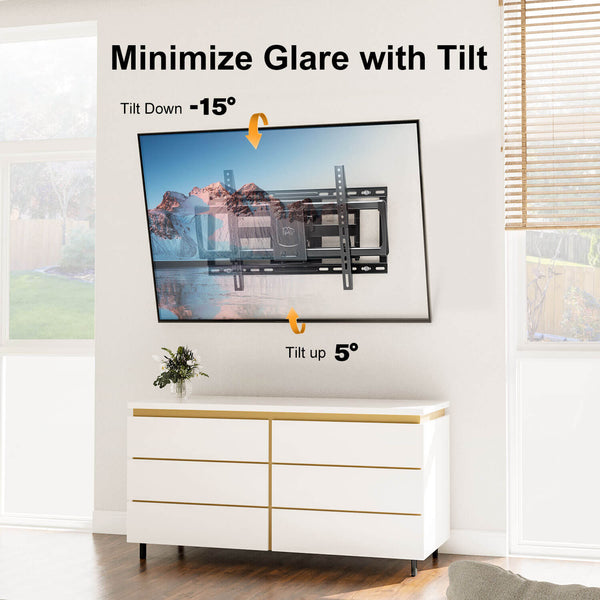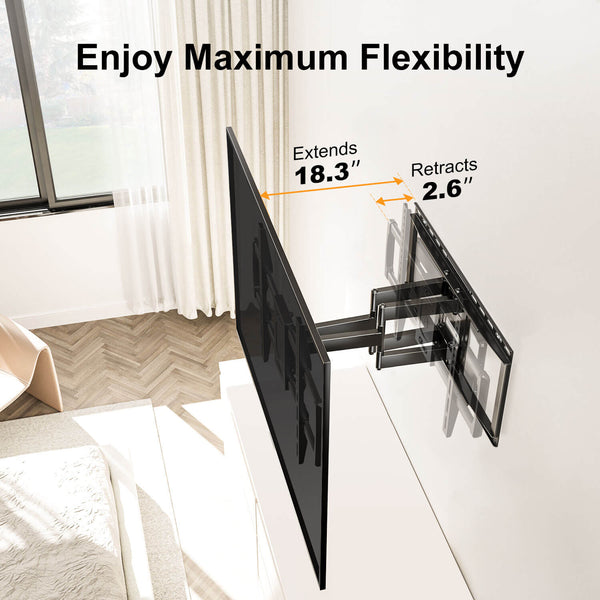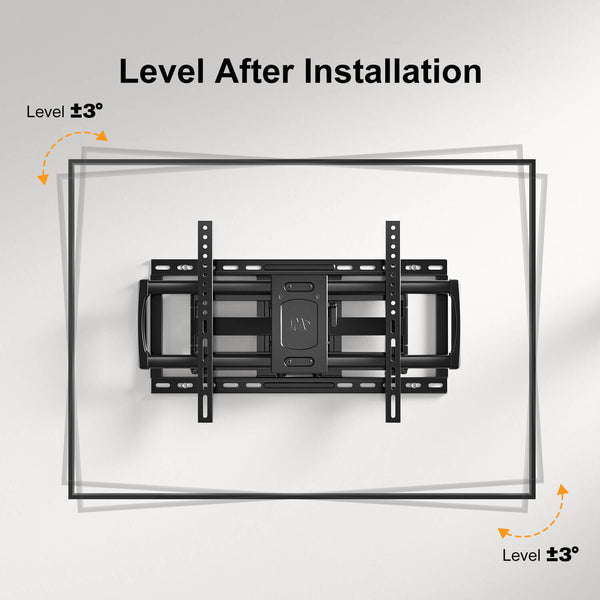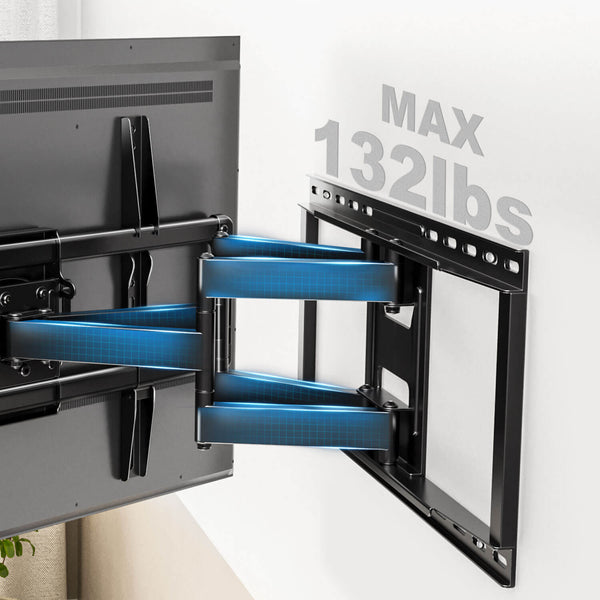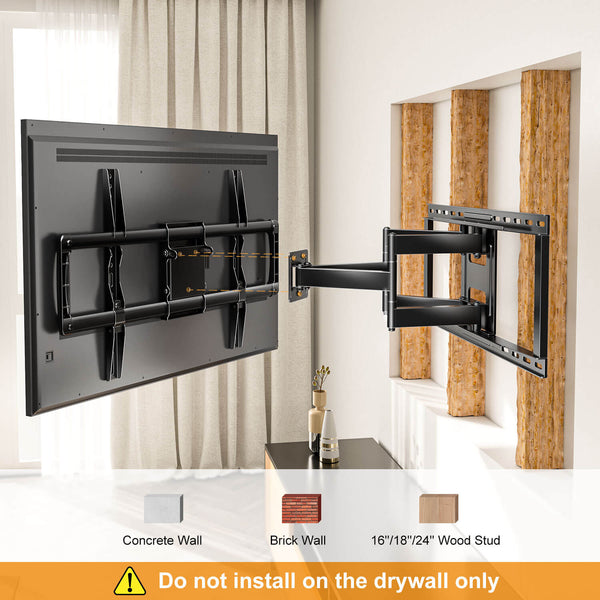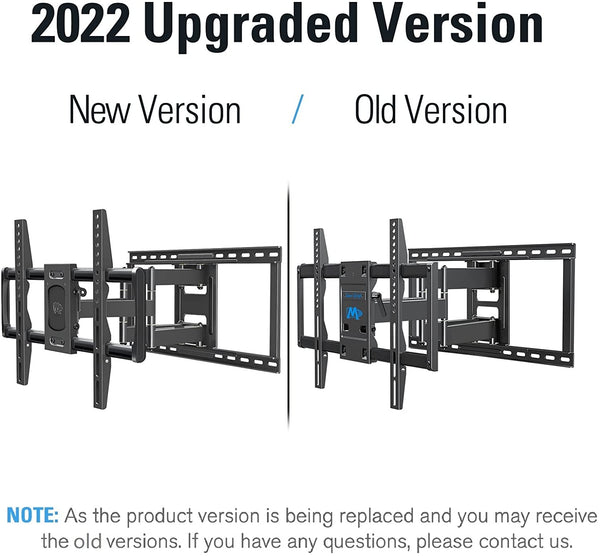 Regular price

Sale price

$109.99

Unit price

per
| | |
| --- | --- |
| Model | MD2298 |
| Type | Full motion TV wall mount |
| TV size | 42''-90'' |
| VESA pattern | 200x100mm​ to 600x400mm |
| Weight capacity | 132 lbs. |
| Swivel | 45° left or right |
| Tilting | 5° up and 15° down |
| Extension | 2.6''-18.3'' |
| Leveling | 3° |
| Material | Cold Rolled Steel |
| Installation | Dual wood stud up to 24'' or concrete wall |
| Product Weight | 22 lbs. |
| Shipping Dimensions | 22.99 x 13.98 x 5 inches |
| Warranty | 10 years |
Mounting Dream full motion TV wall mount is a great choice for a large TV in a home theater, which can give you a more immersive viewing experience. 
Large TV mount
Mounting Dream MD2298 is one of the best articulating mounts for your large TVs. It is super strong to hold your 42-90 inch TVs. As long as your TV VESA hole pattern is from 200x200mm to 600x400mm and the TV weighs less than 132lbs, pick this 90 inch TV wall mount!
Swivel TV mount for maximum comfort
The best way to upgrade your TV-watching experience is to use a swivel TV mount to hang the TV up. A swivel TV mount offers the ability to adjust your TV to an optimal angle. The articulating arms can be extended 18.3'' from the wall, allowing the TV to be swiveled up to 45° left or right. You can watch the TV even you are not sitting right in front of the TV. When the TV is not in use, the wall mount can be retracted 2.6'' back to the wall for a sleek look. Tilt the TV up or down to reduce glare. You can say goodbye to the days of straining your eyes or neck when watching TV. +/- 3° leveling lets you level the TV to a perfect position even after installation. Mounting Dream articulating TV mount MD2298 makes sure that you're always watching TV from the best and the most comfortable angle possible.
Heavy duty large TV wall mount
Your expensive large TV deserves a heavy-duty large TV wall mount! MD2298 is constructed with dual 6 strong arms and sturdy plates, which offers improved safety for your expensive TV. It is strong enough to hold a large TV with a weight of up to 132 lbs. Keep your TV securely connected to the wall, so it won't be bumped or subjected to wavering when you stub your toe on the entertainment center. Mounting Dream large TV mount offers improved safety for your TV and people.
Upgraded articulating TV mount
In order to improve product quality and user experience, articulating TV mount MD2298 is upgraded in 2022. The whole TV unit has a simpler appearance with sturdier construction. The TV plate has a round edge design to avoid scratches to the TV and people. The connection plate of the wall plate is built wider which is firmer to hold a TV. Two tube clips on TV brackets can lock the TV in place to prevent falling down after hanging the TV to the TV plate. MD2298 can be used in multiple rooms for home use, including the living room, bedroom, or dining room. For business use, it can be used in offices, schools, restaurants, etc.
Mounting a large TV with TV wall mount MD2298
The simple design of this articulating TV mount makes installation easy. The package comes with all the necessary hardware and screws. Installation takes only 3 steps to finish. Step 1: Install the wall plate. Step 2: attach TV brackets to the TV back panel. Step 3: Hang the TV to the wall plate.
Note: Mounting Dream full motion TV wall mount MD2298 can only be mounted on the wood stud or concrete wall. If the TV mount needs to be mounted on a concrete wall, concrete wall anchors will be required which are not included in the package. Please contact us to request them if needed.
Feel free to contact us
At Mounting Dream, our customer support is here to help 7 days per week. We are online to reply to your questions through email and we can answer your phone from Monday to Friday. How to choose, how to install, which screws to pick - Feel free to let us know what we can help with. 
Customer support email (7 days per week): support@mountingdream.com 
Phone number (10 am-6 pm, Monday to Friday):  (626) 604-9048
great product! Easy install.
Great Mount
I have a 70" and it works great. This is my second mount from them and would buy a third if needed.
5 stars
I wanted a reliable TV Mount and the flexibility of screen adjustment. Great unit and great service. Thanks
Another 5 star.
I've had several TV mounts. When moved into our new house and the previous owners left a Mounting Dream mount in the living room. We absolutely fell in love. Time came to buy a third TV mount and I went back to Mounting Dream. Absolutely love them.
Very solid, no wonder it gets such high reviews
I was going to buy another mount at a local store but saw this one referenced in an article on pros and cons of mounting TVs above fireplaces. Glad I did since I can now see why it gets high reviews. Very solid, nice that it includes a paper template and so much h/w for various TVs, and nicely adjustable. In fact, at first I thought the plastic handles for the tilt tension were a poor design, hitting the frame, until I looked at the instructions that showed how they ratchet...very clever!