5 Things To Consider Before You Mount A TV In The Bedroom
5 Things To Consider Before You Mount A TV In The Bedroom
Before you mount a TV in the bedroom, there are a couple of things you need to consider first. Finding the best place to mount your TV will make a massive difference to your bedroom TV experience. Being able to catch up on the news in bed, or watch a movie while under the covers is one of life's simple pleasures, but your plans can fall through, if you fail to get the position, angle and placement right. In this article, we've going to discuss 5 things you need to think about before you mount a TV to your bedroom wall.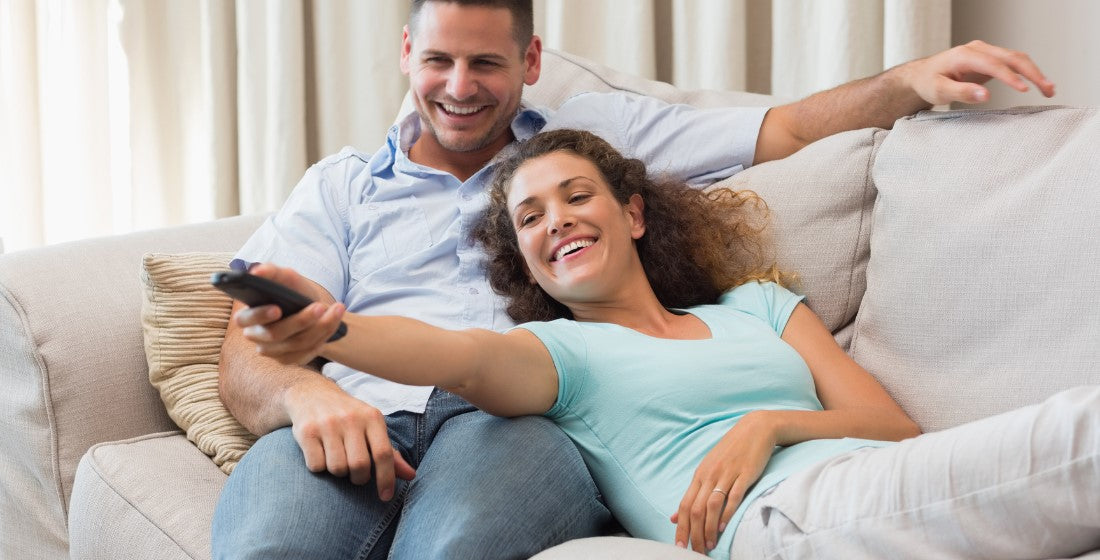 1: Ideal Height Of A Bedroom TV
How you watch TV in bed will be completely different to the way you catch up with your favorite TV show on the sofa. The height of your sofa and bed will usually be different, and you also need to consider whether you'll be lying down or sitting up and enjoying a movie in bed.

Your viewing position will change depending on your sleeping position too. For those who enjoy sleeping on their side, you might prefer a TV to the right or left of your bed. Alternatively, if you sleep on your back, you will probably prefer a TV directly opposite your headboard.

Make sure to mount a TV in the bedroom slightly higher than you would a TV in your living room, so that when you lounge and lay down on your bed, you won't have to strain your neck to watch the screen. The best way to get this right is for one person to lay down on the bed, and the other mark their preferred line of sight with a pencil on the wall.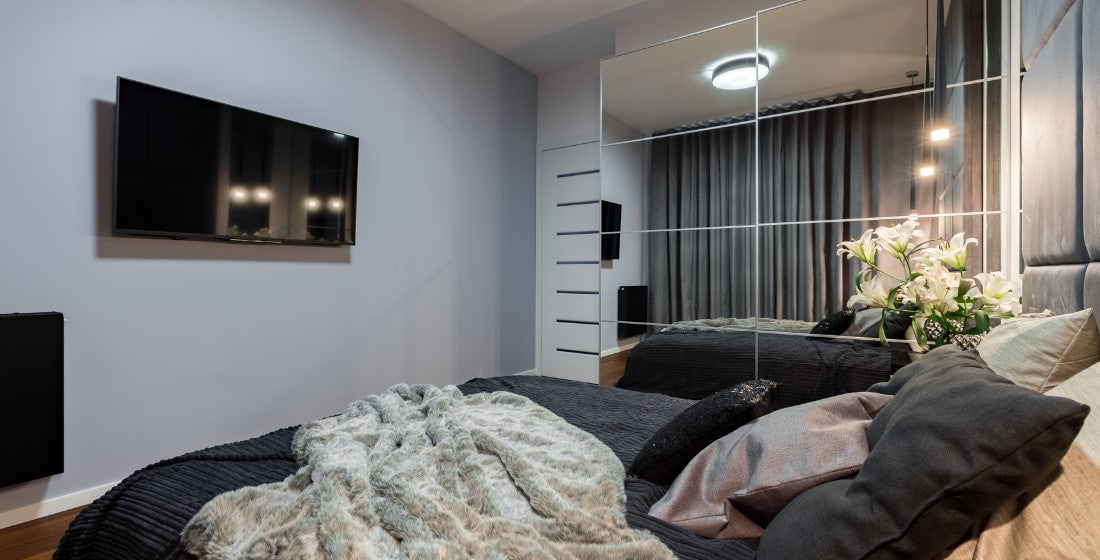 2: Best Place To Put A TV In The Bedroom
When choosing the best place to mount a TV in your bedroom, you should consider the following things;
Your preferred sleeping position and line of sight
The size of your TV in relation to your room
Where will the TV fit without it being knocked or bumped into
Will it block any light fixtures, outlets or interior design features
Contrary to popular belief, the foot of the bed is not always the best place to mount a TV. In fact, it could be the worst, depending on the type of bedroom you have, how much space you have to work with and your window position. To avoid window glare, avoid mounting your TV on walls directly opposite large windows. To prevent accidents, make sure your TV will sit flat against the bedroom wall. If you need to walk past the TV to get to other parts of your room, check that the height and size of the screen isn't going to make this difficult or catch your head as you move past.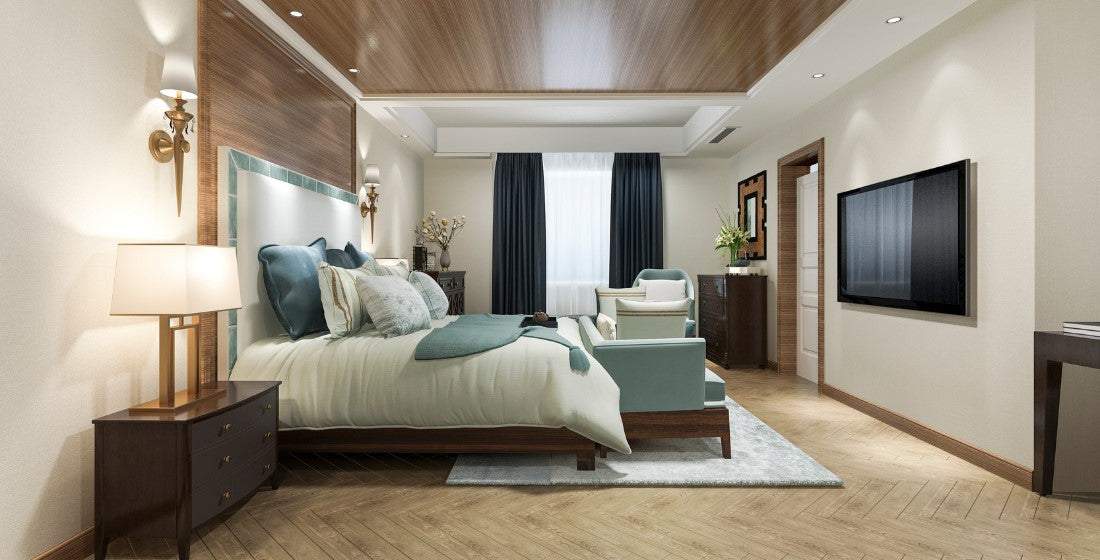 3: Size Of Your Bedroom TV
The size of your TV will also help you to find the right place to mount it on the wall. If you have a small screen, you might need to bring it closer to the bed, in order to see it clearly and without straining your eyes. For larger TV screens, further away is best.

If you've not yet bought your TV, think about why you want it in your bedroom.

Will you be watching movies in bed and prefer a cinema feel with a large screen? Or, do you want to watch the news in the morning as you're getting dressed?

These key questions will all help you make a sound decision when it comes to mounting your TV in your bedroom.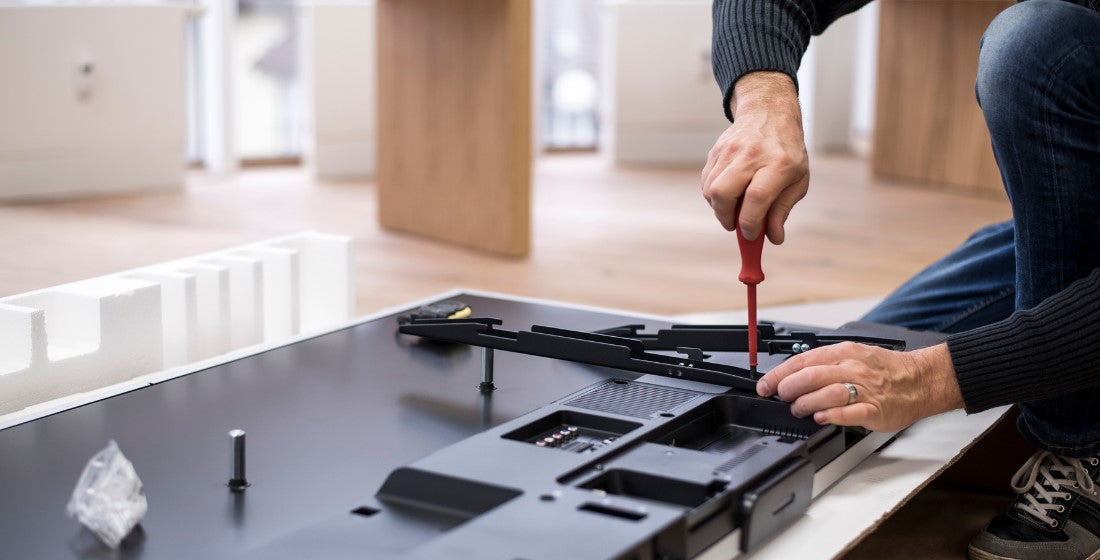 4: Which TV Mount To Buy For A Bedroom TV
These days you have a lot of choice when purchasing a TV wall mount. You can choose from a simple tilt screen wall mount, or invest in a full-motion TV mount, giving you the freedom to move and tilt your screen and achieve the best viewing position possible.
Tilt TV Wall Mount: A wonderful space saving design, this wall mount will give you a clean and minimalist design and is perfect for mounting small TVs in the bedroom.
Full-motion: For complete control of your TV screen, invest in a full-motion TV wall mount. This is the best choice if you want to create a home cinema in your bedroom. You'll be able to tilt the screen, as well as move it towards you, or to either side of the mount.
Mounting Dream TV mounts make it easier than ever to upgrade your bedroom with a wide range of TV wall mounts. Choose from our online collection of tilt, full-motion and table mount TV stands and enjoy versatility and comfort while watching your favorite TV shows in bed. Designed to stand the test of time and give you the ultimate viewing position in the house, save space and invest in a bedroom TV wall mount.


5: Bedroom TV Essentials
Invest in light dimmers to add atmosphere, black out curtains to reduce window glare and fairy lights to give your bedroom a warm and magical touch, and turn your bedroom into your very own mini-cinema. Upgrade your bedding and add back and neck supporting pillows, soft-touch blankets and perhaps a handy place to store the TV remote. All these finishing touches are going to make a big difference to your bedroom, and will take your experience to the next level.